Pound Falls as Risk of `Brexit' Mounts on Brussels Terror Attack
Sterling is worst performer among world's major currencies

Euro drops as investor confidence in European assets declines
The pound posted the biggest decline among major currencies amid speculation the Brussels terror attacks boost the case of campaigners who want to see Britain out of the European Union.
Sterling fell the most in a month versus the dollar as the tragedy risked turning the U.K. currency into even more of a political football. Pro-"Brexit" politicians argued that migration leaves Britain vulnerable to attack, while figures in the opposing camp, including Prime Minister David Cameron, have said that being part of the economic and political union aids security. The euro weakened against almost all of its major peers as confidence fell after the blasts, prompting investors to avoid European assets.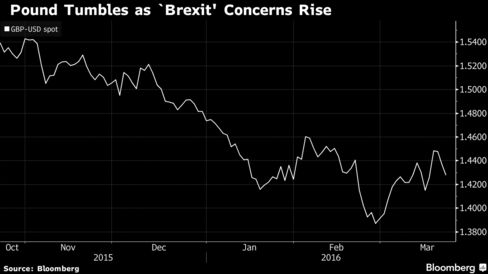 "Sterling is clearly underperforming," said Valentin Marinov, head of Group-of-10 foreign-exchange strategy at Credit Agricole SA's corporate and investment-banking unit in London. "It's on the back of a combination of factors -- one of which is the concern that the tragic event could indeed support the campaign to leave the EU."
Sterling fell Tuesday by the most among 17 major peers tracked by Bloomberg, sliding 1.1 percent to $1.4208 and 0.9 percent to 78.95 pence per euro as of 5 p.m. in New York. The shared currency declined 0.2 percent to $1.1217.
"With the attacks happening in the euro zone, it makes the bloc more awash with uncertainty," said Joe Manimbo, an analyst with Western Union Business Solutions, a unit of Western Union Co., in Washington. The events in Brussels "brighten a spotlight on the Brexit issue and can play into the hands of those in favor of Britain leaving the EU."
'Threat' to U.K.
The explosions in the capital's airport and subway system, which killed at least 31 people, were the deadliest terror attack on Belgian soil.
The U.K. Independence Party said the events showed that the EU's free-movement rules are "a threat to our security." Members of Cameron's own party have echoed similar sentiments, with Iain Duncan Smith, who resigned from the government last week, warning in February that membership of the bloc leaves Britain more exposed to terrorism given the recent "massive wave" of migration.
"The most negative reaction is for GBP," Athanasios Vamvakidis, head of G-10 currency strategy at Bank of America Merrill Lynch in London, wrote in e-mailed comments. "Any events that could give, to some people, arguments against migrants and refugees -- such as a terrorist attack -- could increase 'Brexit' risks."
The pound is already trailing other currencies this year amid speculation a June vote to quit the world's biggest single market would set back the U.K.'s economic recovery.
Reports Tuesday showed inflation remains a fraction of the Bank of England's 2 percent goal and that the nation's budget deficit is larger than economists predicted. Moody's Investors Service warned U.K. companies may face credit-rating downgrades on a "leave" vote.
"An event like this increases the risk of an 'out' vote at the referendum," said
Mujtaba Rahman, director of European analysis at the Eurasia Group in London. "There is already a perception in London and elsewhere in Britain that Europeans are failing on terrorism and security."