Chinese central bank representative e-mailed Fed official

Fed sent publicly available information on 1987 crash actions
As Chinese stocks plunged in July, an official from the nation's central bank reached out to the Federal Reserve for information about how it handled the 1987 U.S. equities crash, newly disclosed e-mails show.
Song Xiangyan, the People's Bank of China's New York-based chief representative for the Americas, sent an e-mail on July 27 to Steven Kamin, director of the international finance division at the Fed board in Washington, to ask how officials handled the stock plunge, according to messages obtained from the Fed through a U.S. Freedom of Information Act request. The correspondence was reported earlier Monday by Reuters.
Kamin responded to say that the Fed would try to respond soon, then later in the day sent the PBOC a summary of the response to Black Monday. He attached seven publicly available Fed documents including meeting records, briefing books and a statement to Congress by then-Chairman Alan Greenspan.
"It's very positive that the PBOC turned to the Fed for lessons from U.S. experience with market turmoil," said David Dollar, a senior fellow at the Brookings Institution in Washington who previously worked for the U.S. Treasury in Beijing. "The 1987 crash is especially interesting because the U.S. avoided a recession."
Chinese officials devised new policies on the fly last year as they struggled to arrest a 43 percent stock-market slide from June to August. Growth in the world's second-largest economy slowed to 6.9 percent in 2015, the slowest pace in a quarter century.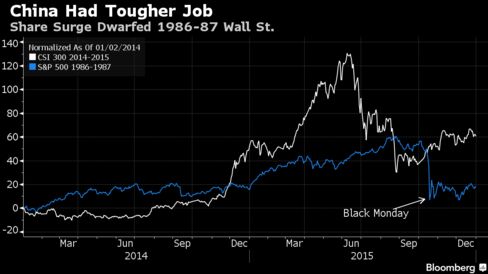 The PBOC didn't respond to a faxed request for comment Monday.
China's central bank recently held a joint symposium with the Federal Reserve Bank of New York in Hangzhou, where U.S. and Chinese officials discussed economic developments and traded views on research. PBOC Deputy Governor Chen Yulu said at the gathering that officials are willing to learn from the Fed on how it conducts open market operations.
Shared Documents
"Many books were written about 1987. Would the PBOC people be ignorant of it?" asked Andy Xie, an independent economist who previously worked for the World Bank and Morgan Stanley. "Why 1987? How about 2000 and 2008? It seems fishing for the supporting materials for what they want to do."
Song told Kamin that the PBOC was interested in details of how the Fed used repurchase agreements to inject cash into the U.S. banking system in 1987.
That shouldn't be seen as surprising, according to Trinh Nguyen, an economist at Natixis Asia Ltd. in Hong Kong. "This is normal," she said. "Central banks often ask not just other central banks but also explore options with the private sector, and academic experts, to consider their plan of action."
It's reassuring that the PBOC sought input from Fed officials given the longer U.S. experience in dealing with stock-market crashes, said Shane Oliver, head of investment strategy at AMP Capital Investors in Sydney.
"It's a sign of the maturity of the PBOC that they would reach out to a developed country central bank," Oliver said. "And it's also comforting to hear that the Fed is happy to provide such assistance in a timely fashion."
— With assistance by Jeff Kearns, and Kevin Hamlin
Before it's here, it's on the Bloomberg Terminal.
LEARN MORE