Gold-Silver Ratio Says It's Time to Buy One, Sell Other: Chart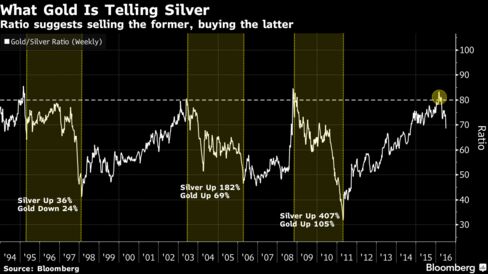 When the head of one of the world's biggest silver streaming companies says he's more bullish on his metal than gold, don't dismiss him just for talking his own book. This chart suggests Silver Wheaton Corp. Chief Executive Officer Randy Smallwood may be right. The gold-to-silver ratio just fell below 80, and the last three times that happened silver outperformed gold by 60 to 302 percentage points in the next two or three years.
Before it's here, it's on the Bloomberg Terminal.
LEARN MORE