Apple Unveils Smaller-Screened iPhone SE to Jump-Start Sales
Apple Inc. unveiled a new, smaller iPhone that will start at $399, seeking to jump-start sales of its flagship product by enticing more users to upgrade, especially in high-growth markets such as China and India.
The iPhone SE has a 4-inch-screen with a stainless steel finish, and incorporates the faster A9 processor that also runs the larger iPhone 6S handsets, Apple Vice President Greg Joswiak said at an event Monday at the company's Cupertino, California, headquarters. The phone has full support for the Siri voice-enabled digital assistant, a 12-megapixel camera, and includes features found on the larger phones like Apple Pay and Touch ID.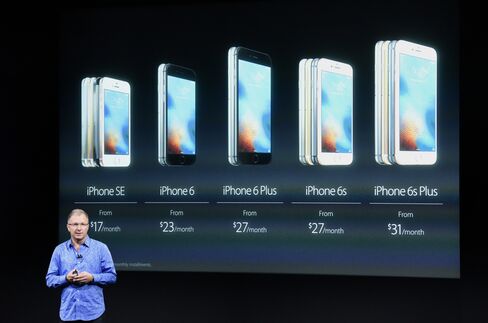 Apple will ship the iPhone SE starting March 31. The company sold 30 million of the older 4-inch iPhones last year, Joswiak said.
The company also said it's cutting the price of the cheapest Apple Watch, to $299 from $349.
Watch This Next: Why Apple Has a Big iPhone Problem
Before it's here, it's on the Bloomberg Terminal.
LEARN MORE