China's consumers are ignoring the bears.
Consultancy McKinsey & Co. is tipping that China's shoppers will increase their spending by 10 percent per year through the end of the decade as incomes rise. Some 55 percent of consumers expect a significant wage increase over the next five years.
It's not just staple goods that will be filling the shopping trolleys. Consumers are spending more on luxury items like spa visits, travel and entertainment.
The shift is just another sign of China's economy changing away from one that is fueled by heavy industry and exports and towards one where consumers and services drive growth.
The chart below shows how shoppers plan to spend more on leisure and travel.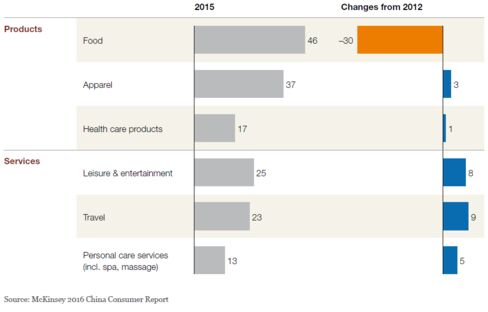 Here's another sign of the burgeoning market: consumers are adopting new products, services and retail experiences at rates unseen in developed markets. Mobile payment in China went from zero in 2011 to 25 percent of the population in 2015.
"Gone are the days of indiscriminate spending on products," according to McKinsey. "The focus is shifting to purchasing more premium products, and living a more balanced, healthy, and family-centric life."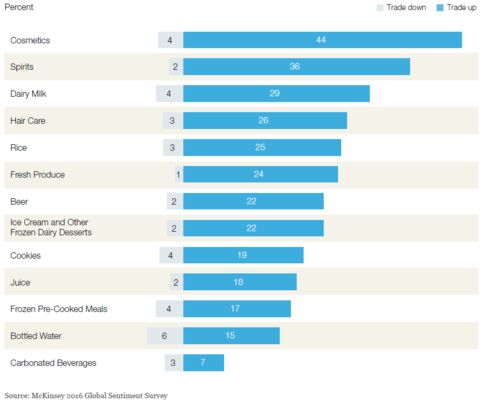 China's leadership have prioritized economic growth of between 6.5 percent and 7 percent this year and have promised to ensure the economy, which grew by its slowest in 25 years in 2015, will avoid a hard landing.
While China's retail sales slowed in the first two months of the year, they remain in a double-digit growth range. Annual sales of cinema tickets could overtake the U.S. as early as 2017 and outbound tourist trips is on course to reach 200 million by 2020, according to CLSA Ltd.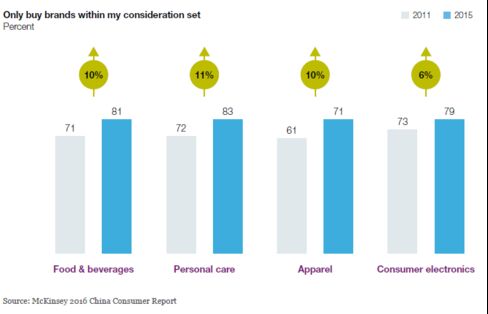 Still, for foreign competitors hoping to capture greater market share, the outlook is mixed. While foreign brands dominate the premium segment, local companies are increasing their market share in the mass segment of the market.
"While scale, speed, and simplicity proved advantageous during the past 15 to 20 years, the changing shape of Chinese consumption is set to topple some giants of the past, and elevate new champions," McKinsey said.
McKinsey surveyed 10,000 shoppers aged between 18 and 65 in 44 cities across China.
Before it's here, it's on the Bloomberg Terminal.
LEARN MORE