Here's What Big Bank CEOs Have Made Since the Financial Crisis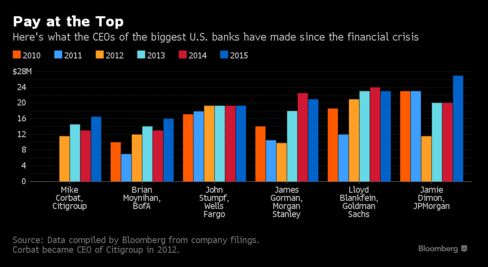 Wall Street's titans are still making enough to put food on the table. JPMorgan Chase & Co. gave Jamie Dimon a 35 percent pay raise to $27 million for 2015, eclipsing Goldman Sachs Group Inc.'s Lloyd Blankfein as the highest paid CEO at the six biggest U.S. banks. Wells Fargo & Co. gave John Stumpf $19.3 million for a fourth straight year. Bank of America Corp.'s Brian Moynihan was the lowest paid at $16 million.
Before it's here, it's on the Bloomberg Terminal.
LEARN MORE