Make Norway's Occupied Your Next Binge Watch
House of Cards? Try Occupied instead.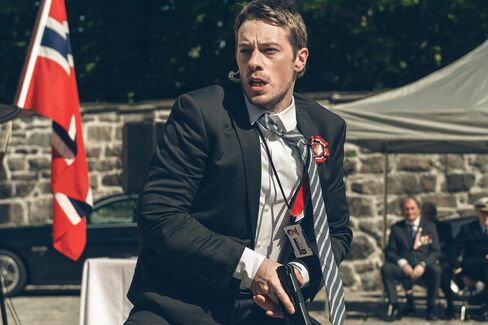 To say that Netflix's Occupied, a 10-episode political thriller, is more bingeworthy than a program about chopping wood might be setting the bar awfully low. But National Firewood Night, a 12-hour documentary that tackles whether to stack split logs with the bark facing up or down, got better ratings in Norway, where both shows were first broadcast. Fortunately for us, Occupied translates better over here.
Set in and around Oslo, Occupied takes place in a near future in which Norway has ceased drilling for oil and gas to prevent more loss of life and damage from climate change. There's a passing reference to a catastrophic hurricane that precipitated this eco-commitment, but that backstory is mostly evoked in the opening credit montage. Civil wars in the Middle East have choked off oil supplies, and the European Union, thrust into a fuel crisis, backs a Russian plan to take over Norway's former petroleum industry. Fifteen minutes into the pilot, Jesper Berg, the Norwegian prime minister, is taken hostage, and during a short helicopter ride he receives an offer from Moscow he can't refuse: Let us restore North Sea oil production to previous levels, and we'll let you resume your alternative-energy plans. Berg blinks.
If the premise seems a reach, Occupied is so well-scripted and finely acted that it's easy to suspend disbelief. Our principals are Berg (Henrik Mestad); his bodyguard, Hans Martin Djupvik (Eldar Skar); an enterprising journalist, Thomas Eriksen (Vegar Hoel); and Wenche Arnesen (Ragnhild Gudbrandsen), the terminally ill head of Norway's version of the CIA. More far-fetched than the geopolitics may be the degree to which the plot depends on Djupvik, who rescues the prime minister, saves the Russian ambassador from assassination, and becomes a double agent. And that's all in the first three episodes.
Jo Nesbo, a member of the same class of Scandinavian noir writers as Stieg Larsson and Henning Mankell, is credited with the idea for Occupied. You can think of the show as a lower-body-count 24 meets a higher-subtitle-count Man in the High Castle, with elements of The Girl With the Dragon Tattoo.
It's tempting to place Occupied within the growing niche of "cli-fi," or climate fiction. Thorium power, Berg's alternative-energy solution, is a real thing—a form of nuclear energy that relies primarily on thorite instead of enriched uranium. (It's safer, too; thorium reactors don't melt down.) Yet with its portrayal of an anti-Russian resistance movement—Fritt Norge—and, in particular, a live-video assassination of a Russian, Nesbo appears more inclined toward an allegory about Islamic State. Appropriating its shock tactics, Occupied seems on the verge of asking difficult questions about when, or if, terrorism is justifiable as self-defense.
If Nesbo intends a deeper moral inquiry, Occupied doesn't manage it, but it does have charm. It's easily one of the best recent series for ogling modern architecture. And the after-hours diversion may well inspire viewers to lead crisper meetings. These Vikings get right to the point. Occupied also affirms that the cortado is the coffee bar order of the moment on both sides of the Atlantic. You'll need one, too, the morning after you've stayed up all night finishing the series.
Before it's here, it's on the Bloomberg Terminal.
LEARN MORE