Valeant Plunges Most Ever on Forecast Cut, Warning Over Debt
Ackman, Paulson lose millions as shares drop 51 percent

Analysts question Pearson's leadership, company credibility
Valeant Pharmaceuticals International Inc. shares plunged Tuesday in their worst day ever, falling 51 percent after the company cut its 2016 forecast, reported a weak fourth quarter and said it risked breaching some of its debt agreements if it can't file its annual report in time.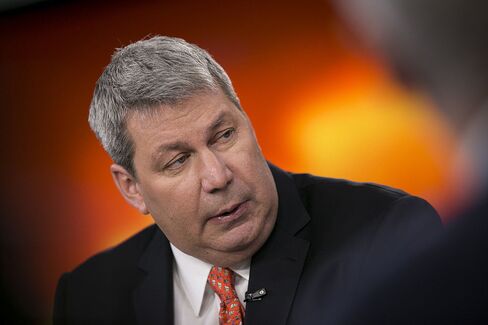 During a two-hour call with analysts, Chief Executive Officer Mike Pearson was questioned about why he was the right man to lead the drugmaker. Adding to the company's problems, during the call it corrected its press release issued hours before, saying that one measure of earnings would actually be lower than it had stated.
"How can we be confident in what you're saying about the business, given you were positive in December, and January?" said Shibani Malhotra, an analyst with Nomura Securities who has been bullish on the stock, with a buy rating and a $175 price target. "How do we get comfortable that Valeant is able to execute and deliver for shareholders?"
The shares declined 51 percent to $33.51 at the close in New York, their lowest closing price since January 2011. The shares have now lost more than 87 percent of their value since their August 2015 peak, as Valeant has grappled with criticism of its drug prices, its CEO being sidelined for two months on medical leave and investigations by regulators and Congress.
Billionaire investor Bill Ackman, one of Valeant's top holders, lost more than $750 million on the day. His Pershing Square Capital Management LP owns 6.3 percent of the stock, according to data compiled by Bloomberg. Ackman's calculated losses assume the investors still own the number of shares listed in their most recent regulatory filings, and don't include declines it may have had on Valeant options that it also owns.
Despite the slide in the stock since Pearson returned from medical leave last month, Pershing Square remains supportive of the Valeant CEO, according to a person familiar with the situation, who asked not to be identified discussing private information.
The forecast and uncertainty about the potential for a default have cause investors to lose "total confidence" in the company, Pershing said Tuesday in a letter to shareholders. "We are going to take a much more proactive role at the company to protect and maximize the value of our investment," said Pershing, which gained a seat board last week with the nomination of Vice Chairman Steve Fraidin.
Credibility
"We have to earn back the credibility," Pearson said in his first public remarks since returning from a medical leave two weeks ago. "We have to deliver on results. We have to meet or exceed this guidance," Pearson said during the call. "It's a bit of a starting over point for me and this company."
Laval, Quebec-based Valeant is at risk of violating its debt agreements, putting it at the mercy of its creditors, since it will be late filing its annual report. Valeant said it must file its 10-K by March 30 to avoid triggering cross-defaults that would restrict it from being able to further tap its credit line. It won't be able to meet that deadline and will begin asking lenders next week to amend the credit agreement so that a default is waived.
Earlier Tuesday, Valeant gave new sales and earnings forecasts for 2016 that were lower than projections the company provided in December and then pulled last month. Dermatology and gastrointestinal drugs, which until recently were key growth drivers, are falling short. Pearson said he's not planning any major asset sales but may divest smaller businesses this year to help pay down debt, which has ballooned to more than $30 billion.
On the call, the company also corrected a statement from its release: Adjusted Ebitda for the next four quarters will be about $6 billion, Valeant said, not the $6.2 billion to $6.6 billion the company said in the release.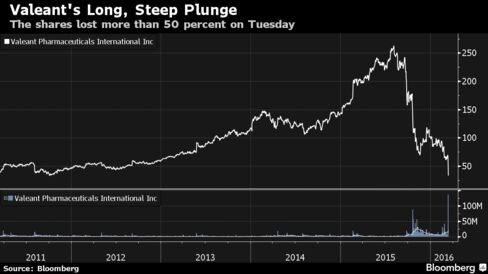 Valeant's bonds were among the biggest losers on Tuesday. Its $3.25 billion of 6.125 percent bonds maturing in 2025 dropped more than 10 cents on the dollar to 77 cents, according to Trace, the bond-price reporting system of the Financial Industry Regulatory Authority. The debt was the most-actively traded corporate security tracked by Trace on Tuesday, Bloomberg data show.
Valeant has promised to pay down debt as fast as it can, and Pearson reiterated that goal on the call. At the same time, the company said that it would pay down at least $1.7 billion in 2016, less than the at least $2.25 billion goal it gave in December.
ValueAct Losses
At Tuesday's intraday low, shareholder ValueAct Capital Management lost more than $450 million and Paulson & Co., run by investor John Paulson, lost more than $400 million. The estimates assume the investors still own the number of shares listed in their most recent regulatory filings.
The company said in a statement Tuesday that sales for the year will be $11 billion to $11.2 billion, and adjusted earnings per share will be $9.50 to $10.50.
Fourth-quarter sales were $2.8 billion. Profit, excluding certain items, was $2.50 a share. Because the company has said it will restate several quarters of earnings related to mail-order pharmacy Philidor Rx Services LLC, the results may not compare with analyst estimates or prior quarters.
Medical Leave
Pearson, who took a long medical leave in late December for severe pneumonia, announced his return on Feb. 28. At the same time, Valeant pulled its financial guidance and delayed reporting fourth-quarter results, saying it would wait until a board committee had finished an investigation of Philidor.
Valeant's dermatology franchise was the most affected by the drugmaker's decision to stop working with Philidor. Valeant has since signed a deal with Walgreens Boots Alliance Inc. to distribute dermatology and eye medicines through the drugstore chain's more than 8,000 U.S. pharmacies. The drugmaker's head of U.S. dermatology products, Deb Jorn, resigned on March 2 for what Valeant said were personal reasons.
Valeant said in December that the fallout from losing Philidor would slash millions of dollars from the company's earnings in 2016. The company predicted sales of $12.5 billion to $12.7 billion at the time, with adjusted earnings per share of $13.25 to $13.75.
Then, on Feb. 22, Valeant said it would restate some of its past earnings after reviewing its relationship with Philidor. The restatement affects results from 2014 and 2015, when about $58 million in revenue recognized in 2014 should have been booked in subsequent periods. The company didn't rule out further disclosures. It has delayed filing an annual report because it's making an "ongoing assessment of the impact on financial reporting and internal controls."
Before it's here, it's on the Bloomberg Terminal.
LEARN MORE