Perhaps Too Quiet: Traders Fear Calm as Volatility Bets Jump
Shares outstanding on TVIX note climbed to record last week

VIX below 20 for 10 days, longest such streak since December
Even as a gauge of investor anxiety hovers close to the lowest level of 2016, the calm washing over the U.S. stock market has a suspicious feel to some traders.
The concern is visible in the record number of shares outstanding in an exchange-traded note betting on an increase in the Chicago Board Options Exchange Volatility Index. Share counts, which rise along with demand for ETFs, sit around the highest levels of the year for two other long-VIX securities, according to data compiled by Bloomberg. Meanwhile, the fear gauge has closed below 20 for 10 straight days, the longest such streak since December.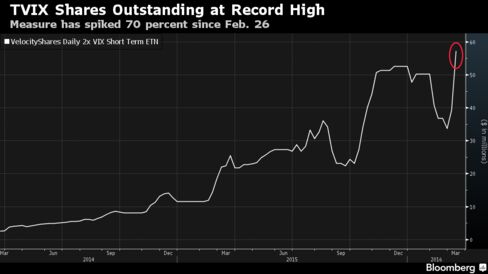 The decline in the VIX since the Standard & Poor's 500 Index fell to a two-year low on Feb. 11 has mirrored a recovery in U.S. stocks as stabilizing oil prices and increased central bank stimulus calmed investor nerves. Unwilling to be lulled asleep, traders are expecting volatility to return, and placing their VIX bets accordingly.
"This is driven by the increased anxiety investors are experiencing, as this rally has been very violent and many investors remain skeptical of the market," said Alex Kosoglyadov, director of equity derivatives at BMO Capital Markets Corp. in New York. "They're buying a dip in the VIX."
Although relative calm has prevailed over the last two weeks, events are coming up that could stir up price swings, according to Jim Smith of OTR Global Trading LLC. The Federal Reserve's meeting this week will be in focus as traders watch for indications on the trajectory of interest rates, while inflation and jobless claims data will also be released.
"They're finding a safe house within the VIX instruments going into this week's Fed decision and economic data," said Smith, an options strategist at OTR Global Trading in Purchase, New York. "They might have a little bit of a floor on them, which makes the upside look much more appealing than the downside."
Market Hedge
Shares outstanding in the VelocityShares Daily 2x VIX Short Term ETN, a security that appreciates as turbulence increases and is often used as an equity market hedge, rose to a record high of 57.3 million on March 9. The measure has surged 70 percent after falling to its lowest point since October on Feb. 26.
Outstanding shares on the ProShares Ultra VIX Short-Term Futures ETF and iPath S&P 500 VIX Short-Term Futures ETN have touched in the past week their highest levels since the start of 2016. All three VIX-linked instruments have absorbed more than $145 million in net flows since the start of March, data compiled by Bloomberg show.
Traders are wise to prepare for volatility, according to Societe Generale SA. High valuations across asset classes will trigger further swings in 2016, Patrick Legland, the Paris-based head of research at the firm, wrote in a client note on Monday. The lingering "divergence between inflated equity prices and disappointing fundamentals will continue to support a volatile environment for equities in 2016," he wrote.
The VIX slid 0.5 percent to 16.84 at 4 p.m. in New York.
It's worth noting that the industries that led the rally since late February are among those that took the worst beatings earlier in the year, according to Kosoglyadov. Financial, material and energy companies have been the biggest gainers since Feb. 11, climbing more than 13 percent. Those same groups slipped more than 9 percent during the first six weeks of the year.
Analysts surveyed by Bloomberg remain skeptical those companies can increase profits. Earnings among the three groups are forecast to contract by at least 10.4 percent in the first quarter of 2016, with a year-over-year decline of 93.5 percent predicted for energy shares, according to analysts.
"The sectors that have outperformed during the recent rally are those where investor sentiment is most negative," said Kosoglyadov. "It doesn't surprise me that downside demand remains elevated given the rebound."
Before it's here, it's on the Bloomberg Terminal.
LEARN MORE