Treasuries Gain as Morgan Stanley States Case for Bullish 2016
U.S. 10-year yield may fall to 1.45% by Sept. 30, report says

Tumbling crude-oil price boosts debt in trading Monday
Morgan Stanley, one of the Wall Street banks that deals with the Federal Reserve, cut its Treasury yield forecasts for 2016 and said the central bank will wait until December to raise interest rates. Benchmark 10-year yields fell from a six-week high.
"The global backdrop for rates markets looks so supportive that 2016 may become known as the 'Year of the Bull,'" according to a report the company's analysts issued Sunday.
Yields fell in New York Monday as declining oil prices prompted a drop in the bond-market inflation gauge known as the break-even inflation rate, or the gap between yields on regular Treasuries and inflation-indexed securities. The spread between two-year Treasuries, which are more sensitive to Fed policy, and 30-year debt, which is more attuned to inflation, was close to its lowest since 2008.
"We're back to the story of oil pushing risk assets lower and helping Treasuries rally," said Gennadiy Goldberg, an interest-rate strategist in New York at TD Securities, also a primary dealer.
Most major economies will do worse in 2016 than 2015, Morgan Stanley's report said. Central banks in Europe and Japan will keep easing monetary policy, while the Fed and the Bank of England will delay raising rates, according to the firm. Treasury 10-year yields will fall to 1.45 percent by the end of September, the analysts wrote, approaching the record low of 1.38 percent set in 2012. The Fed and the Bank of Japan will refrain from taking any action in meetings this week, based on Bloomberg surveys of economists.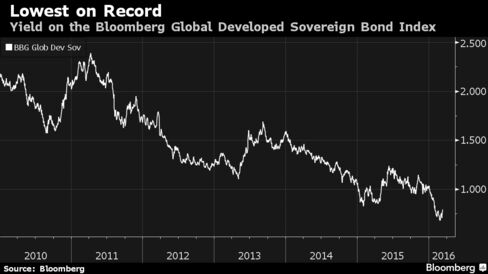 Benchmark 10-year note yields fell two basis points, or 0.02 percentage point, to 1.96 percent as of 5 p.m. New York time, according to Bloomberg Bond Trader data. The 1.625 percent security due in February 2026 was at 97.
The 2016 advance in Treasuries, the world's biggest bond market, runs contrary to the selloff projected by Bloomberg's surveys of economists as plunging stock and oil prices sent investors to the safety of government debt. Borrowing costs fell in almost every industrialized nation, with average yields on $23 trillion of bonds falling to 0.69 percent in February, the lowest on record based on Bloomberg indexes that go back to 2010.
The 2016 rally is being driven by the unprecedented monetary easing that central bankers in Europe and Japan have undertaken to revive their economies. The ECB surprised investors last week by lowering its deposit rate to minus 0.4 percent, increasing its bond buying and incorporating company debt as part of its purchases. In February, the BOJ added negative rates to its quantitative-easing program.
U.S. yields will probably diverge from those in Europe and Japan, said Peter Jolly, the Sydney-based head of market research at National Australia Bank Ltd., the nation's biggest lender by assets.
'No Upside Pressure'
"In Europe and Japan, there's no upside pressure on yields," Jolly said. "In the case of the U.S., we do see upside pressure. We think that the Federal Reserve will come back and raise interest rates a couple times this year."
The market-implied probability the Fed will increase its benchmark at last once this year is about 78 percent, futures prices compiled by Bloomberg indicate. The calculation assumes policymakers boost the rate a quarter-point, after liftoff from near zero in December.
Morgan Stanley has been advising investors to buy bonds this year, saying in a January report that "the bull market is here."
The bank's new and prior forecasts for 10-year yields by Dec. 31 are below. The current forecasts are from the Sunday report. The former figures are from the company's 2016 global rates outlook published Nov. 30, the previous update of the quarterly forecasts:
| | | | |
| --- | --- | --- | --- |
| Market | Current Yield | New Forecast | Old Forecast |
| U.S. | 1.97% | 1.75% | 2.7% |
| Germany | 0.27% | 0.55% | 1.2% |
| U.K. | 1.58% | 1.5% | 2.6% |
| Japan | -0.055% | -0.2% | 0.85% |
Before it's here, it's on the Bloomberg Terminal.
LEARN MORE