Trump Cancels Chicago Rally as Fractious Campaign Boils Over
Supporters and opponents skirmish inside chaotic arena scene

Rivals blame him for violence; Cruz invokes '68 convention
One of the ugliest U.S. presidential campaigns in modern history turned even uglier Friday night when Donald Trump abruptly canceled a Chicago rally in the face of furious protests, setting off a melee of shoving and taunting between supporters and opponents.
The boiling-over culminated weeks of violence that has become a fixture of Trump's rallies. The Republican front-runner has often called for protesters to be ejected and has mused about whether they deserve physical abuse, even as he says he doesn't condone it. Filled with rhetoric that excoriates Muslims and Mexicans, Trump's campaign may be the most bare-knuckled and racially charged since segregationist George Wallace's third-party run for the presidency in 1968.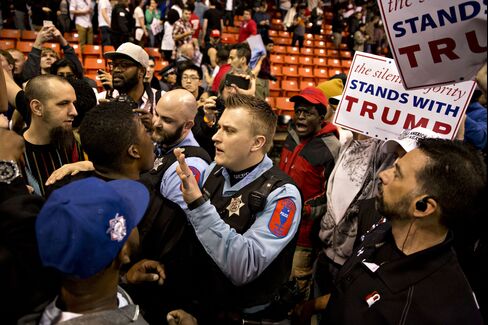 Trump said Friday's cancellation was a blow to the rights of thousands who had gathered in an arena at the University of Illinois at Chicago. "You can't have a rally in a major city in this country without violence or the threat of violence," he said in an interview on MSNBC. "Whatever happened to free speech?"
He said he stopped the rally on the advice of law enforcement, though the Chicago Police Department was not contacted or involved in the decision, said spokesman Anthony Guglielmi.
All of Trump's remaining Republican opponents blamed him for fomenting the violence.
"The seeds of division that Donald Trump has been sowing this whole campaign finally bore fruit, and it was ugly," Ohio Governor John Kasich said in a statement.
Trump's nearest rival, Texas Senator Ted Cruz, invoked the memory of Chicago's riotous 1968 Democratic convention in arguing that Trump set the tone for his fractious supporters.
"Responsibility starts at the top," Cruz said at an event in suburban Chicago. "Any candidate is responsible for the culture of the campaign. When you have a campaign that affirmatively encourages violence, when you have a campaign that is facing allegations of physical violence against members of the press, you create an environment that only encourages this sort of nasty discourse."
Senator Marco Rubio said on CNN that the images were "disturbing."
"We've reached a breaking point in our politics," he said. Trump "needs to own up to the rhetoric that he has used."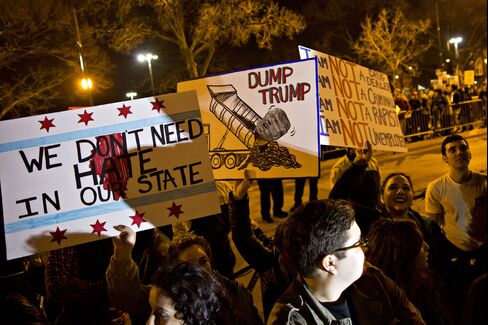 Packed Full
Protesters and supporters of Trump have clashed increasingly in recent weeks, including earlier Friday in St. Louis, where a bloody-faced demonstrator was led from an arena. In North Carolina, a 78-year-old man was arrested after he sucker punched a protester.
Trump has told supporters at events that he'd like to hit a protester in the face and also pledged to pay legal fees if anyone got in trouble for menacing opponents.
On Friday, the arena at UIC, which is just west of downtown, was near its capacity of about 7,000. In the hours before the rally was scheduled to begin, law enforcement officers escorted out about a dozen protesters. Outside, opponents chanted, "Hey-hey, ho-ho, Donald Trump has got to go."
Mayhem Erupts
When the cancellation announcement was made to the thousands inside an arena at the university, supporters of Trump booed and chanted "USA!" and "We want Trump!"
Video from the scene shows a protester storming the dais and ripping up a paper Trump sign before being dragged off stage.
Police seemed outnumbered in their attempts to break up scuffles. Everywhere, people recorded the ruckus on smartphones. One protester held a sign reading "We are not rapists," a reference to Trump's June campaign announcement in which he said Mexico is sending rapists and criminals to the U.S.
Tussles continued for 15 minutes before the crowd trickled out and reassembled outside.
As attendees streamed out, protesters were lined up on both sides of the street, chanting and sometimes heckling disappointed Trump supporters. About a dozen Chicago police officers on horseback slowly herded the crowd from the pavilion's main entrance.
"Who won? We won!" protesters chanted as helicopters hovered above.
One Trump supporter vented her anger as she left the venue.
"It was disgusting -- they were like animals," said Kathy Pitts, a suburban Chicago resident. "Even if you don't agree with him, he has a right to be heard."
Single Voice
Trump's visit played out during a final rush of campaigning ahead of five big-state primaries Tuesday that include Illinois, Missouri, North Carolina, Florida and Ohio. Those final two are must-win home states for the increasingly long-shot campaigns of Rubio and Kasich. Meanwhile, Cruz and Trump prospected for votes in the state of Abraham Lincoln.
The Chicago protest had been building for days. A Facebook page "Trump Rally Protest - Chicago," which urged people to reserve seats to displace his supporters, by Thursday night had drawn 10,000 people who said they were going to demonstrate. MoveOn.org sent the details of the protest in an e-mail to members.
Friday evening, U.S. Representative Luis Gutierrez, a Democrat from Chicago, rallied several hundred Trump opponents from a stage across the street from the arena.
"We have assembled as men and women, gay and straight, black and white, Muslim, Christian, Hindu and Jews, from every part of the world," he said. "We have assembled here today to say with one voice: no to Donald Trump's hate speech."
Isaac Silver, 32, a bricklayer, held a homemade cardboard sign written in black marker that read, "We Reject Trump's Divide and Conquer Bigotry" as he stood in a crowd outside the arena.
"When I heard that he was coming to speak, I thought it was a huge outrage and insult to the people of Chicago," Silver said. "This is an immigrant city. I think Donald Trump has used his presidential campaign as a platform for misdirecting feelings of insecurity and using that to incite violence against immigrants, Muslims, all kinds of people."
Though Trump sought to distance himself from Friday's mayhem, even some of his supporters attributed the altercations to him, approvingly.
"Trump does that -- it's his persona -- because he has that charisma that he's likable, but then he's hateable," Richard Talaga, 51, a Joliet resident who owns a sheet metal company. "You either like him or hate him, but everybody listens to him."
—With assistance from James Nash and Kevin Cirilli
Before it's here, it's on the Bloomberg Terminal.
LEARN MORE