Germany Immune to Populist Right No More as AfD Party Rises: Q&A
Leader says police must shoot if refugees come illegally

Polls suggest party to win seats in three state elections
Viscerally opposed to Chancellor Angela Merkel's open-door policy toward refugees, the Alternative for Germany party is poised to widen its support in three state elections on Sunday, further disrupting the nation's political map. AfD, as the party is known in German, already holds seats in five of the country's 16 state legislatures, though it isn't in power in any of them.
Where did they come from?
AfD began in 2013 out of opposition to the euro and taxpayer-funded bailouts of countries such as Greece. Co-founder Bernd Lucke, an economics professor who focused the party on the euro, quit last year after losing a power struggle with rivals including current co-leader Frauke Petry, 40, an East German-born chemist. The AfD failed to reach the 5 percent threshold to win seats in the German parliament in 2013, though it entered the European Parliament the following year. Several senior party members are defectors from Merkel's Christian Democratic Union who view her as pulling the party to the political left. Polls suggest the AfD will win seats in all three contests on Sunday, including the western states of Baden-Wuerttemberg and Rhineland-Palatinate. Established parties are vowing to band together to keep the AfD out of government.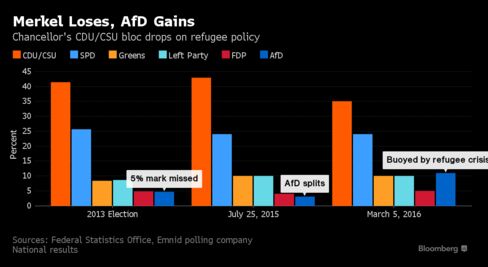 What they want
AfD leaders say police should use their guns to stop illegal migrants at the border as a last resort, have urged Germans to have three children to reduce the need for immigration, and suggest German policy is driven by Holocaust guilt. On paper, the party wants restrictions on political asylum, stronger enforcement of existing laws -- including deportations of refugees who don't qualify for asylum -- and demands that the government "protect the national identity," according to a resolution passed at a party convention in November. Its campaign platform for Baden-Wuerttemberg calls the governing parties "saboteurs of our state and our society" and says the AfD is the voice of the "awakening resistance of the bourgeoisie." The party still wants to dissolve the 19-nation euro area. Another plank: Allowing Germany to hold national referendums.
And what they say
AfD leaders portray established parties and mainstream media as a cartel that imposes consensus policies on German voters. "People are herd animals who often don't notice they're being manipulated," Petry says in a speech at a campaign rally posted online. Taking aim at immigration, she says "a people is obviously responsible for ensuring its continued existence on its own." Germany has suppressed debate about immigration for decades "out of fear of blame for World War II," she alleges. In a newspaper interview on the campaign trail in January, Petry said German police is required to "prevent illegal border crossings, using firearms if necessary" as a last resort.
Expanding their platform
After taking as much as 12.2 percent of the vote in three eastern German state elections in 2014, the party is poised for its strongest showing yet, with a Forsa poll this week suggesting 18 percent support in Saxony-Anhalt ahead of Sunday's voting. In Rhineland-Palatinate and Baden-Wuerttemberg, the AfD is polling at about 10 percent. The threshold for winning legislative seats is 5 percent.
Where's the problem for Merkel?
Polls suggest that the AfD's biggest drain is on the CDU. A strong AfD showing on Sunday would be a slap at Merkel's refugee policy and make coalition-building in each state more difficult. It could rekindle internal debate about Merkel's support for policies such as scrapping nuclear power, promoting female business leaders and her statement that "Islam belongs to Germany." It would also show that Germany is no longer immune to the right-wing populism that has swept much of the rest of Europe.
Is there a link with anti-Islam protests?
Alexander Gauland, a regional AfD leader and former CDU member, has said the anti-Islam protesters who've been staging weekly demonstrations in German cities are allies. Rallies by Pegida -- the German acronym stands for Patriotic Europeans Against the Islamization of the West -- are a forum for protesters who oppose Merkel's refugee policy and call her a traitor.
Does the AfD have staying power?
Germany has seen political movements come and go. The Pirate Party, which campaigns for data privacy, won seats in four German state legislatures in 2012 only to fizzle by the federal election the next year. The anti-capitalist Left took almost 12 percent of the national vote in 2009 after the global financial crisis, then retreated to less than 9 percent in the next election four years later.
Before it's here, it's on the Bloomberg Terminal.
LEARN MORE