Ireland's economic growth outstrips Celtic Tiger era

Investment, consumer spending, exports, imports rise
Ireland's economy expanded 7.8 percent in 2015, cementing its position as the fastest-growing in the euro region.
Gross domestic product rose an annual 9.2 percent in the fourth quarter, the Central Statistics Office said in Dublin on Thursday. From the previous quarter, the economy grew 2.7 percent, quickening from a revised 1.5 percent in the third quarter.
Ireland's economy has emerged from the worst recession in the nation's modern history. Still, threats are increasing. In June, the nation's closest trading partner, the U.K., holds a referendum on European Union membership. Meanwhile, the nation faces months of political deadlock, after no party won a majority in last month's general election. Parliament is meeting in Dublin on Thursday for the first time since the vote.
"We expect GDP growth of somewhere between 5 percent and 6 percent this year. However, if Britain were to vote to leave the EU, then it would have serious negative implications for Ireland, " said Alan McQuaid, chief economist at Merrion Capital Group Ltd. in Dublin. "The Brexit threat only highlights the urgency to put an Irish government in place as soon as possible."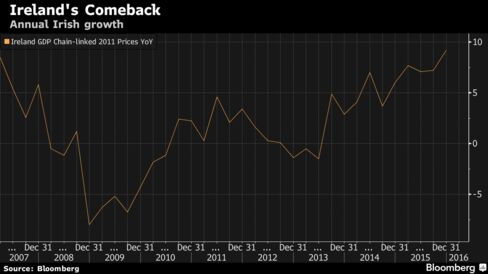 Consumer spending rose 3.1 percent in the fourth quarter from the year earlier, while government spending dropped 6.8 percent. Exports rose 16 percent in the three months ended in December from the year-earlier period while imports rose 15 percent. Investment rose 28 percent.
"Clearly these numbers are a strong upside surprise and we would not extrapolate forward to 2016," Cantor Fitzgerald LP in Dublin said in a note to clients. "Multinational sector activity distorts the investment numbers."
Before it's here, it's on the Bloomberg Terminal.
LEARN MORE