Here's a Central Banker Who Doesn't Care About Inflation
Norway is seen cutting rates next week even as the inflation overshoot grows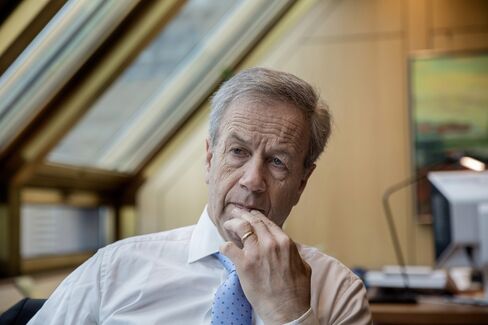 He's said repeatedly that inflation is important. It's the mandate of Norway's central bank, after all -- 2.5 percent inflation over time. But Governor Oeystein Olsen's commitment to that goal is questioned by many.
All five of the Nordic region's biggest banks say accelerating inflation, which has overshot the target since May, won't stop Olsen from cutting rates to a new low on March 17. The oil-reliant economy he's in charge of has seen growth throttled by plunging crude prices, and Olsen has been cutting rates since December 2014 to avoid a recession.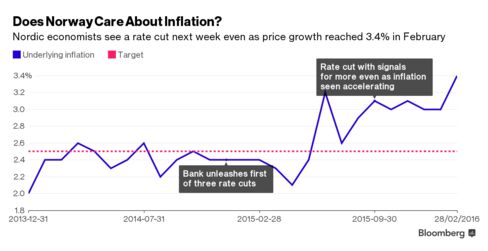 Some central bankers might say Olsen is lucky: at least he has price growth. Data Thursday showed underlying inflation accelerated to 3.4 percent in February, above Olsen's December projection of roughly 3.1 percent.
"Norges Bank will see this as temporary" as the inflation rate "will be significantly lower next year," said Magne Oestnor, an analyst at DNB ASA.
To be sure, the bank has already said it sees price growth abating next year, giving it the freedom to cut rates now.
What's not temporary is rising unemployment, which is roughly a full percentage-point above the normal structural rate for the small economy. Mainland growth, stripped of oil, gas and shipping, grew just 0.1 percent in the fourth quarter after no expansion in the third quarter.
Some economists in the region see rates being cut to zero by the end of this year, with Svenska Handelsbanken predicting that Olsen will as soon as next week have to start publicly discussing the possibility of negative rates in Norway.
According to the bank's analyst, Gonsholt Hov, that would provide proof that the fate of the real economy matters more to Olsen than the risk of high inflation.
Before it's here, it's on the Bloomberg Terminal.
LEARN MORE