China's Stocks Sink as State Funds Go Absent, Developers Decline
Real estate shares slump amid speculation of cooling measures

Inflation accelerates at fastest pace in 20 months in China
China's stocks slumped, led by financial companies and energy producers, as traders weighed the level of government support for the world's second-largest equity market.
The Shanghai Composite Index slid 2 percent at the close, adding to Wednesday's 1.3 percent drop. The gauge extended losses in late trading, a reversal of the pattern seen this week, when suspected buying by state-backed funds lifted shares toward the end of the day. Industrial & Commercial Bank of China Ltd. and PetroChina Co., which led the daily rebounds, fell at least 1.4 percent. A measure of property developers tumbled the most in two weeks on concern the government will take steps to cool home price gains in top cities.
The suspected failure of state funds to prop up stocks on Thursday removes one of the key supports for the world's worst-performing equity market this year amid deteriorating economic data and disappointment over stimulus measures announced during annual policy meetings this week. Data on Thursday showed February consumer prices rose the most since mid-2014. Shanghai authorities held a meeting on Tuesday to discuss measures to tame soaring property prices after recent frenzied residential homebuying, according to people familiar with the matter.
"Late-session rallies in the previous few days fueled speculation that the national team stepped in," said Daniel So, a strategist with CMB International Securities Ltd. "Investors feel disappointed today when the pattern failed to repeat. A lack of stimulus measures from the National People's Congress meetings also let people down."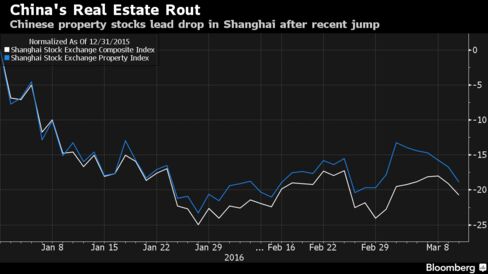 The Shanghai property index slumped 2.6 percent for the steepest loss among industry groups. Poly Real Estate Group Co. slid 4.3 percent, while Future Land Holdings Co. plunged 6.1 percent.
The municipal government's National Development and Reform Commission held discussions with regional authorities from the People's Bank of China and the China Banking Regulatory Commission, people familiar with the situation said, who asked not to be named because the matter isn't public. Possible measures weighed include tightening mortgage policies for second-home buyers who plan to purchase larger properties, the people said.
"Most property stocks have already rebounded a lot so there is profit-taking pressure" when there are news on cooling measures, said Kenny Tang, chief executive officer of Jun Yang Securities Co. in Hong Kong.
Trading Dwindles
The Shanghai Composite's 3.3 percent retreat in the past two days is the biggest in more than a month. Trading volumes slumped 30 percent on Thursday. Turnover declined to the third-lowest level since the end of 2014.
The CSI 300 Index slid 1.9 percent, dragged down by energy and financial shares. ICBC, the nation's biggest lender by market cap, dropped 2 percent, while China Merchants Bank Co. lost 2.4 percent. Sinopec Shanghai Petrochemical Co. and Shaanxi Coal Industry Co. paced losses for energy companies, sliding at least 2.4 percent. PetroChina, the largest oil company and a favorite target of state-funds buying, fell 1.4 percent.
China's consumer-price index rose 2.3 percent in February from a year earlier, compared with the forecast for a 1.8 percent gain. Still, the CPI remains below the government's target for 3 percent this year. The producer-price index fell 4.9 percent, extending declines to a record 48 months.
Accelerating consumer prices, coupled with a slowing economy, are raising the chances of stagflation and increasing the risk to bonds, according to Haitong Securities Co., ranked first by China's New Fortune magazine in 2015 for fixed-income analysis.
Hong Kong's Hang Seng China Enterprises Index slipped 0.3 percent, reversing a gain of as much as 1.4 percent. The Hang Seng Index dropped for a fourth day, losing 0.1 percent, led by Wharf Holdings Ltd.
Before it's here, it's on the Bloomberg Terminal.
LEARN MORE