States Starting to Feel Pinch as Revenue Forecasts Weaken: Chart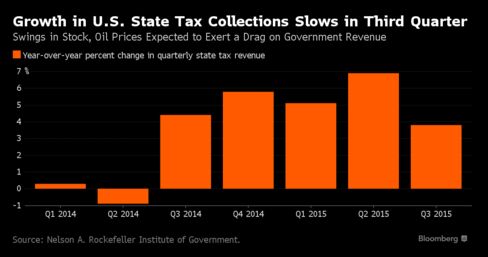 State tax collections in the U.S. during the third quarter rose at the smallest pace since 2014, as personal income tax growth slowed, according to the Nelson A. Rockefeller Institute of Government. Revenue climbed by 3.8 percent in July through September compared with the year earlier period, according to a report by the institute. States expect this year and 2017 to be "much weaker" than 2015, and "recent fluctuations in the stock market and the significant drop in oil prices cause us concern about state tax collections," Lucy Dadayan and Donald Boyd, the study's authors, said in the report.
Before it's here, it's on the Bloomberg Terminal.
LEARN MORE