Gold's Rally Belies Confidence in Global Stocks Rebound: Chart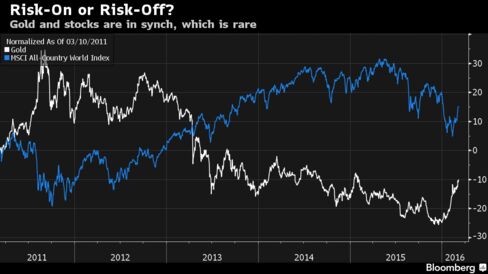 The rebound in global equities over the past month has been accompanied by a rally in gold, a sign investors doubt the pickup in stocks will be sustained. The precious metal is a haven asset whose price tends to climb as investors turn more risk averse, while shares typically fall at such times. Gold has risen 6.6 percent over the past month and is trading near a one-year high, while an MSCI gauge of global shares advanced 7.3 percent and closed Monday at a two-month high.
Before it's here, it's on the Bloomberg Terminal.
LEARN MORE