China Stocks Rebound Shrugging Off Export Slump
PetroChina, ICBC erase losses in last 10 minutes of trading

Chinese exports slump worse-than-estimated 25% in February
China's benchmark stock index eked out a gain in the final minutes of trading as speculation of buying by state-backed funds helped offset plunging exports.
The Shanghai Composite Index erased a loss of 3.1 percent to close 0.1 percent higher. Industrial & Commercial Bank of China Ltd. and PetroChina Co., long considered to be a targets of government buying because of their large index weighting, were the biggest contributors to gains. Transportation and raw-material companies declined after data showed China's outbound shipments sank last month by the most since May 2009.
The worse-than-expected decline in outbound shipments underscores the Communist Party's challenge to support growth as capital flows out of the country and debt climbs to an unprecedented level. Policy makers last weekend raised their target for money supply and said they will allow a record deficit to meet an economic expansion target of 6.5 percent to 7 percent for 2016. State-backed funds intervened to bolster the stock market last week ahead of annual policy meetings.
"The government may want to intervene to make the market more stable and not to affect investor sentiment," said Sam Chi Yung, a strategist at Delta Asia Securities Ltd. in Hong Kong. "So there could be some chance of state intervention. The market will continue to go up but at a slow pace."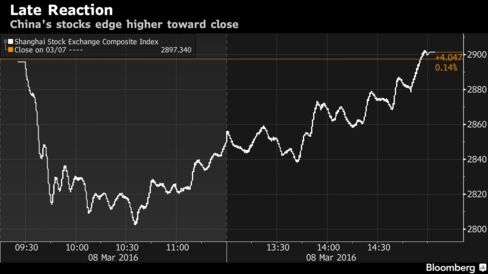 Export Slump
The Shanghai Composite has risen for six days, the longest stretch of gains since July. For the year, The gauge is down 19 percent, the worst performance among global benchmark indexes. The Hang Seng China Enterprises Index slid 1.4 percent, while the Hang Seng Index declined 0.7 percent.
Exports slumped 25.4 percent in February in dollar terms from a year earlier, while imports declined 13.8 percent, leaving a trade surplus of $32.6 billion. The week-long Chinese new year holidays fell in February this year, closing factories and curbing shipments.
"The export data are very, very poor," said Castor Pang, head of research with Core-Pacific Yamaichi Hong Kong. "The huge decline doesn't augur well for the stock market. The Shanghai Composite is facing strong resistance near the 3,000 level as people, not convinced with the reversal of a bear market, are willing to dump their holdings."
State Support
Transportation companies led declines among a gauge of industrial shares. China International Marine Containers (Group) Co. plunged 4.3 percent, while Spring Airlines Co. dropped 3.2 percent. Jiangxi Copper Co. and Zijin Mining Group Co. paced losses for material producers, sliding at least 1.8 percent.
An index of financial companies rose 0.3 percent, erasing a loss of as much as 3.3 percent. The gauge surged 7.5 percent last week. State-backed funds bought primarily bank shares on Friday, while some local branches of the securities regulator asked listed companies, mutual funds and brokerages to stabilize the market during the meetings, according to two people with direct knowledge of the situation.
Statements from the National People's Congress are underscoring the difficulty for policy makers to boost growth while also carrying out plans to make state-owned enterprises more efficient, according to Ken Peng, a strategist at Citigroup Inc. in Hong Kong.
"NPC euphoria was misplaced," Peng said. "Markets were hoping for both stimulus and reform, self-conflicting goals. We got neither."
(
Corrects month of Chinese export data in second paragraph.
)
Before it's here, it's on the Bloomberg Terminal.
LEARN MORE