Banning Some HFT Strategies Helped This Market Grow: Chart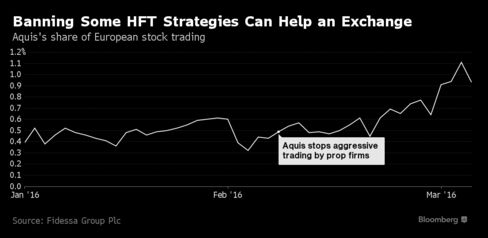 Aquis Exchange Ltd. has doubled its share of public European stock trading since Feb. 8, when it banned what it considers a problematic high-frequency-trading strategy. Aquis says it doesn't have a beef with HFT firms, it just wants to limit proprietary traders to passively providing price quotes. "We have the same goal as the end investor -- we both want to minimize market impact," said Doug Cifu, the chief executive of Virtu Financial Inc., an electronic trading company that's providing more liquidity on Aquis.
Before it's here, it's on the Bloomberg Terminal.
LEARN MORE