Employment growth keeps wagers alive on Fed rate increase

Global yields to aid U.S. bonds even as Fed raises rate: Gross
The extra yield U.S. 10-year Treasuries offer over their German peers widened to the most since January as U.S. economic data kept alive prospects of the Federal Reserve raising interest rates this year, which contrasts with the European Central Bank's accommodative stance.
Treasuries fell a second day Monday, with the 10-year note yield rising to the highest level in a month. U.S. government securities dropped Friday after a Labor Department report showed that the nation's jobs growth was strong enough to maintain wagers of the Fed tightening policy this year.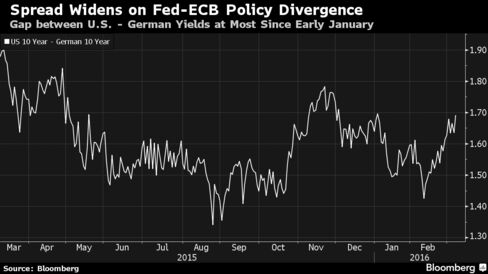 "There is such a big difference between" Treasuries and bund yields, said Owen Callan, a Dublin-based fixed-income strategist at Cantor Fitzgerald LP. "Bunds are heading towards zero and Treasuries are heading towards 2 percent" due to the "complete divergence" between ECB and Fed policy, he said.
Benchmark Treasury 10-year yields climbed three basis points, or 0.03 percentage point, to 1.91 percent as of 7:45 a.m. New York time Monday, according to Bloomberg Bond Trader data. That's the highest yield since Feb. 2. The 1.625 percent note due in February 2026 fell 9/32, or $2.81 per $1,000 face amount, to 97 15/32.
The yield on German 10-year bunds dropped two basis points to 0.22 percent, widening the yield spread between the securities to 169 basis points, the most since Jan. 5 based on closing prices.
"We are looking for some type of stabilization in the economic and market situation, which allows the Fed to gradually hike rates going forward," Callan said. "In Europe we are looking at the opposite situation, where we are pricing in just how much to expect from the ECB in terms of easing."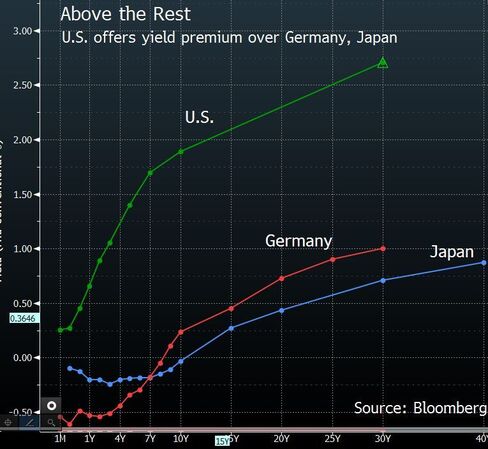 Bill Gross, who built the world's biggest bond fund at Pacific Investment Management Co. and is now at Denver-based Janus Capital Group Inc, said Treasuries will draw support from investors seeking alternatives to near-zero yields abroad, aiding the market as the Fed raises interest rates.
"It's not just what the Fed might do, but it's the comparison relative to global markets" that will drive Treasuries, said Gross. "Global markets, no doubt, are pulling down U.S. rates," Gross said in an interview on Bloomberg Television on March 4.
Gross's Janus Global Unconstrained Bond Fund has returned 0.4 percent in the past year, beating 85 percent of its competitors, according to compiled by Bloomberg on its institutional class of shares. Bond prices indicate investors expect the Fed to raise its own rate once in the coming year, Gross said.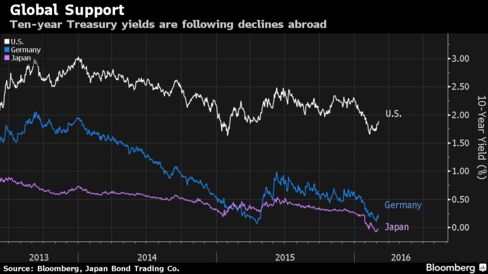 The probability the Fed will raise interest rates this year is about 68 percent, futures prices compiled by Bloomberg indicate. The U.S. central bank will leave the upper end of its target band for the federal funds rate at 0.50 percent when it meets March 15-16, according to 50 of the 60 economists surveyed by Bloomberg. The remaining 10 forecast it will increase the figure to 0.75 percent.
U.S. yields climbed on March 4 after a government report showed employers added more jobs in February than economists projected. Average hourly earnings, a gauge of inflation, unexpectedly fell.
JPMorgan Chase & Co. lowered its forecast for how far U.S. yields will rise this year. Economists predict the European Central Bank will cut its deposit rate, which is already below zero, when it meets on March 10. The firm sees U.S. 10-year yields rising to 2.15 percent by Dec. 31, lowering its forecast from an earlier prediction of 2.45 percent.
Investors are becoming more concerned about how long the economic expansion will last, and their appetite for risky assets is low, JPMorgan's Alex Roever and Kimberly L. Harano wrote in a report March 4. The New York-based company is one of the 22 primary dealers that trade directly with the Fed.
Before it's here, it's on the Bloomberg Terminal.
LEARN MORE