Who's Running Brazil? Chaos Builds as Rousseff Ducks Her Allies
Her own Workers' Party is increasingly rejecting her policies

Arrest of top aide and growing Petrobras scandal not helping
When President Dilma Rousseff of Brazil extended her visit to Chile last weekend, she was not engaging in an act of international relations but of domestic avoidance. Her Workers' Party was holding anniversary celebrations in Rio de Janeiro and if she had shown up as planned, there would likely have been more than a few boos.
QuickTake Brazil's Highs and Lows
All across South America, plunging oil and commodity prices have caused political instability, but Rousseff ranks among the least popular heads of government. Since she began her second term 14 months ago, a wide corruption probe and deep recession have gnawed away at her support, nearly paralyzing the government and causing many now to wonder how she can continue and who is in charge.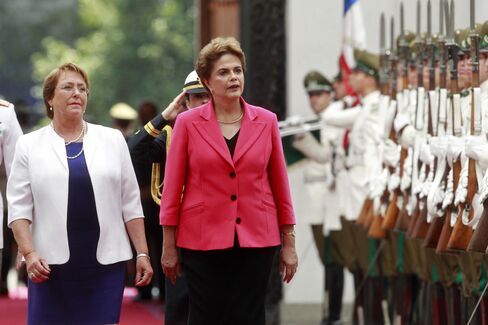 "There is no type of leadership, everyone is pulling in a different direction," Luiz Fernando Figueiredo, former central bank director, said in an interview. "Without a doubt the possibility of impeachment is gaining momentum. Over the past three to four weeks, we've reached a boiling point."
This week, Justice Minister Jose Eduardo Cardozo became the third cabinet member in five months to resign under party pressure, as members express anger with austerity measures and the probe into kickbacks at state-run oil company Petrobras that has locked up several of their former leaders.
Investigations are even encroaching on former President Luiz Inacio Lula da Silva, with the latest threat coming on Thursday after local media reported a former government leader in the Senate allegedly negotiated a plea bargain that could potentially drag Lula and the president deeper in to the corruption scandal and accelerate her ouster. Investors have actually begun bidding up the currency and stocks -- the benchmark gauge snapped back into bull market territory Thursday after plunging last year -- as a bet that impeachment would resolve the impasse; it's a curious gamble given that such a development could drag on for months and trigger a battle for power.
While the rank and file of the Workers' Party, known as the PT, are still rallying behind Lula in spite of the corruption probe, what they ask of Rousseff is that she scales back on budget cuts and returns to the party's traditional leftist values. That leaves her stuck between her party and the more pro-market Brazilian Democratic Movement Party, or PMDB, her largest ally in Congress.
Brazil's Hero
During the anniversary celebrations last weekend, Lula was honored as a hero and figured prominently in the party's TV ads. By contrast, Rousseff has alienated members for having cut labor benefits, hiked interest rates, and proposing to increase the age of retirement. Moreover, her campaign strategist has been arrested amid reports that her 2010 presidential bid received illegal donations from a construction company.
Rousseff's press office declined to comment on this story.
The president is now so isolated that her ability to stay the course of austerity is severely compromised as are her chances of fending off efforts to remove her.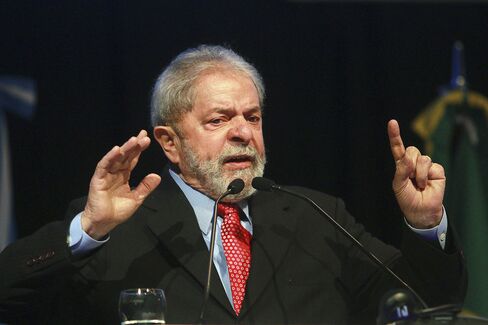 Her ouster could occur either through a pending impeachment process in the lower house of Congress or a request to have her reelection in 2014 annulled. With fresh allegations of graft involving her party, these moves could gain momentum, said one PMDB official, who requested anonymity to protect relations with the government.
Defying the PT, PMDB leaders are pushing for measures, including formal central bank independence, to reduce government meddling in the economy and to downsize the role of the state. Senate Vice President Romero Juca said Congress won't support a financial transaction tax that Rousseff wants to narrow a budget gap unless the PT backs more spending cuts.
While her tax and pension proposals have been stalled in Congress, a bill backed by the PMDB Senate President Renan Calheiros to downscale the role of Petrobras in deep-water oil development was quickly approved.
That didn't go down well with PT supporters. "Dilma is trying to appease the right, and obviously there are party activists who want to bash the right," said Marcos Aurelio Silva Costa, a 36-year-old driver and party member for 20 years.
Rousseff's difficulty in getting her own bills approved and disarming "fiscal bombs" proposed by the opposition shows just how weak the government is, said Carlos Kawall, chief economist at Banco Safra.
"In that context, nobody is really governing," Kawall said.
Political Stalemate
The risk of a long-term stalemate is further unraveling the economy. Moody's Investors Service cited "deeper political dysfunction" as one of the risks for a further deterioration of Brazil's credit profile when it downgraded its sovereign rating to junk last month.
"The longer you have this rudderless approach to policy, the worse it's going to get," said UBS Securities LLC's Geoffrey Dennis. "It's only a matter of time before you start getting more negative headlines again about the budget, about the debt level and therefore you'll end up with a weaker real."
A second year of economic contraction is deepening revenue erosion and has pushed the budget deficit to a record 10.8 percent of gross domestic product. Despite the slowdown, inflation is soaring at double digits on the back of a weaker currency and higher government-regulated prices.
The economic situation is so pressing that Rousseff may no longer be able to hew to a middle ground. She may have to choose between opposing sides of her ruling coalition to ensure a clearer majority, said Fernando Lattman-Weltman, a professor of politics at the Getulio Vargas Foundation, a business school and think tank.
"Any scenario going forward is bad," said Lattman-Weltman. "I wouldn't want to be in her shoes at any cost."
Before it's here, it's on the Bloomberg Terminal.
LEARN MORE