Brazil's Lula Targeted in Police Raid Into Corruption Scandal
Prosecutors probing whether he received Petrobras kickbacks

'I won't bow my head,' Lula said from party headquarters
Brazil's former President Luiz Inacio Lula da Silva said his detention on Friday was a politically motivated media spectacle, vowing to fight charges in a corruption scandal that has shaken Latin America's largest country.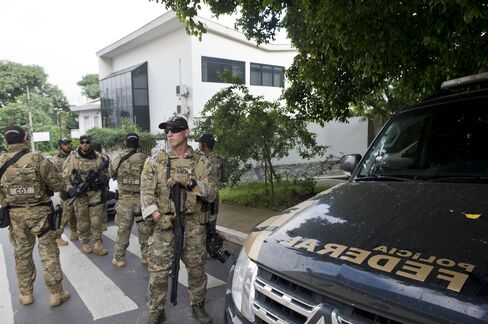 Lula, 70, spoke shortly after being released from custody at Congonhas airport in Sao Paulo, where police questioned him. Prosecutors say they have evidence that companies rewarded him with donations and speaking fees in return for government favors.
Flanked by allies and supporters at his Workers' Party headquarters in Sao Paulo, Lula denied allegations of wrongdoing and accused prosecutors of abusing their authority to weaken him politically. At one point he fought back tears when apologizing to his family for the ordeal, before striking a defiant tone and saying he wouldn't rule out another run for president.
"I won't bow my head," he said. "If they wanted to kill the viper, they only hit its tail and not its head. It's still alive."
Turmoil is expected to persist in coming weeks. Workers' Party leaders called on supporters to take to the streets to defend the former president and protect the current administration, led by Lula's hand-picked successor Dilma Rousseff. Government critics called for protests Friday night and a mass demonstration on March 13 in favor of Rousseff's impeachment. Crowds had gathered outside Lula's residence and inside Congonhas airport, with the two sides at times coming to blows.
Latest Twist
Friday's detainment is the latest twist in the two-year probe known as Carwash, where business executives offered kickbacks for contracts at state-run oil company Petrobras. It may put on ice the career of Brazil's most prominent politician in decades and is reviving a frenzied debate surrounding Rousseff's future. Eurasia Group, the political consulting firm, said in a note that Rousseff is unlikely to finish her term, with the detention further polarizing Brazil with major demonstrations on both sides.
The president said in an e-mailed statement that it wasn't necessary for authorities to detain Lula, given that he had voluntarily provided information to investigators. In a speech later in the day, she spoke more defending herself against allegations of corruption published on Thursday than she did about Lula's questioning.
Equity and currency markets rallied, making the real the best performer Friday among Latin American currencies tracked by Bloomberg. Investors speculate the scandal could bring down the administration and force an end to Brazil's political turmoil. Lula's legal troubles also eliminate any chance of him making a comeback and winning the presidency in 2018, said Andre Cesar, political analyst and founder of consulting firm Hold Assessoria Legislativa.
"The image of Lula being taken away means the end of him," Cesar said. "He's no longer viable as a candidate."
Without concrete evidence implicating Rousseff in any type of corruption, she may remain in office and investor expectations may be doused, said Carlos Pio, a professor of politics at the University of Brasilia. "The financial market reflects the euphoria of the moment, but that will only continue if there are more facts," he said.
'Zombie Government'
A mentor to Rousseff who President Barack Obama once called the most popular politician on Earth, Lula in recent months had moved to the center of numerous investigations. Police have been probing allegations about his involvement in a scheme of money laundering from kickbacks and granting benefits to companies in exchange for favors. Lula has repeatedly denied wrongdoing.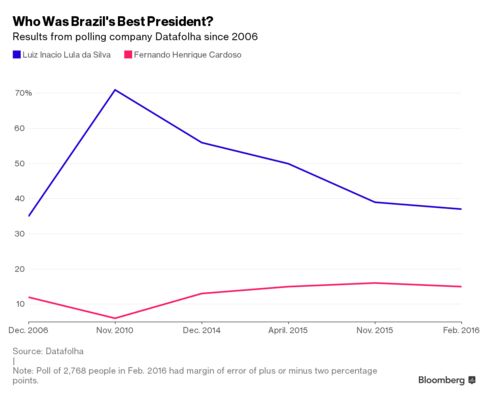 The former president's troubles risk weakening Rousseff as she seeks to stem a recession and fight off several attempts in Congress and in court to oust her.
"We're talking about a zombie government that's been dead for a long time, but this zombie is still walking around," said Claudio Couto, professor of political science at the Getulio Vargas Foundation in Sao Paulo.
Before it's here, it's on the Bloomberg Terminal.
LEARN MORE