In China, "no" is an answer that Tsinghua Unisplendour doesn't usually hear. The Beijing-based tech power has deep political connections: It's owned by Tsinghua University, China's top tech school and the alma mater of President Xi Jinping. Unisplendour last year paid $2.3 billion for a controlling stake in HP's Chinese server business. Affiliated company Tsinghua Unigroup spent over $2.2 billion to buy two Chinese chip designers in 2013 and last year unveiled plans to invest $2.7 billion in three Taiwanese chip assemblers and testers. In September, Unisplendour said it would invest $3.8 billion in Western Digital, the Irvine, Calif., hard drive maker. The purchase would have made it the company's largest shareholder, and would have been the biggest tech investment by any Chinese buyer ever.
On Feb. 23, Unisplendour announced it was walking away from Western Digital rather than undergo a review by the Committee on Foreign Investment in the U.S., or CFIUS. The committee's nine-member panel is chaired by Treasury Secretary Jacob Lew and also includes the heads of the departments of Justice, Homeland Security, Commerce, Defense, State, and Energy, as well as the Office of the USTR and the Office of Science and Technology Policy. Since it has the authority to block deals it concludes pose a threat to national security, it exerts great influence on which U.S. companies can be acquired by foreign corporations. The Treasury Department wouldn't comment on CFIUS's recent reviews.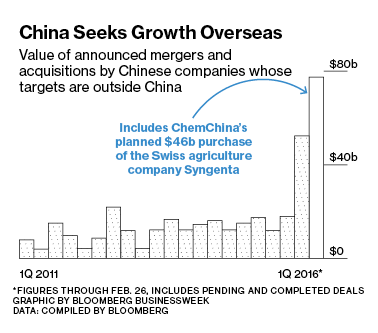 Unisplendour isn't the first Chinese company to retreat from a fight with CFIUS. A $2.8 billion sale to a Chinese private equity firm of the lighting components business of Philips fell apart in January after the Dutch giant said CFIUS had "concerns." A subsidiary of the business is in San Jose, giving CFIUS the right to review the deal. On Feb. 16, San Jose-based chipmaker Fairchild Semiconductor rejected a Chinese bid. Bloomberg Intelligence analyst Woo Jin Ho wrote in a Feb. 24 note that the company rejected the bid because of regulatory concerns. "Such scrutiny of Chinese companies planning to invest in the U.S. is unfair," the Global Times, a state-controlled newspaper in Beijing, wrote on Feb. 25, "and not in the interest of the U.S." Fairchild didn't respond to a request for comment.
CFIUS actually does authorize Chinese deals. Last year it signed off on a $1.9 billion Chinese acquisition of Santa Clara-based OmniVision Technologies, which makes camera sensors used in the iPhone. Another Chinese group in December successfully concluded its $790 million purchase of Milpitas, Calif.-based chip designer Integrated Silicon Solution.
Such completed deals suggest the U.S. government isn't singling out all transactions involving Chinese buyers, says Thilo Hanemann, director of Rhodium Group, an economic research firm. "CFIUS has been quite consistent," he says. "It's just that there have been a number of deals with potential national security implications."
As the pace of Chinese overseas investment picks up, "there is a real question of whether CFIUS has the capacity to continue to manage its workload," a Feb. 22 report from law firm Covington & Burling concluded. The flood of Chinese money into the U.S. is straining the bureaucracy. Of the 147 proposed purchases the committee reviewed in 2014 (the most recent year for which statistics are available), two dozen were Chinese, according to the committee's Feb. 19 annual report. That made China the leading source of reviews for the third year in a row.
In January and February, Chinese companies announced plans to spend more than $77 billion on foreign deals. On Jan. 12 billionaire Wang Jianlin's Dalian Wanda Group agreed to spend as much as $3.5 billion for Legendary Entertainment, the Hollywood company behind Jurassic World. Qingdao Haier on Jan. 15 agreed to a $5.4 billion purchase of General Electric's appliance business. On Feb. 17, Tianjin Tianhai Investment, a shipping and logistics company, said it would spend $6.1 billion for Ingram Micro, a California distributor of computer hardware, networking equipment, and software products.
CFIUS has the right to review not only any acquisition of an American company by foreign interests, but also "any deal that could result in control of a U.S. business by a foreign person," according to its website. An especially sensitive topic is the purchase of American know-how in semiconductors by Chinese investors. The Chinese are determined to build a world-class chipmaking industry.
The U.S. approval process will become even more fraught as political scrutiny increases with the approach of the November election and the transition to a new president, Covington warned. "We are seeing a tipping point emerge with respect to the flexibility and capacity of the U.S. regulatory and political processes to absorb the growing flow of Chinese investment."
The bottom line: China's plans to spend $77 billion on foreign investments so far this year will include major moves in the U.S.
Before it's here, it's on the Bloomberg Terminal.
LEARN MORE