The number of Americans applying for unemployment benefits rose last week to a level that's consistent with steady improvement in the labor market.
While jobless claims unexpectedly climbed by 6,000 to 278,000 in the week ended Feb. 27, the four-week average dropped to the lowest level since the end of November, Labor Department figures showed on Thursday.
Firings have been at subdued levels for a year as employers retain workers to cater to rising demand, a trend that the February payrolls report is projected to underscore. Strides in hiring, together with cheap fuel and firmer wage growth are giving consumers the wherewithal to boost spending.
"There will be some volatility but that's normal," said Jim O'Sullivan, chief U.S. economist at High Frequency Economics Ltd in Valhalla, New York. "Claims will more or less stay at low levels. The job market remains strong."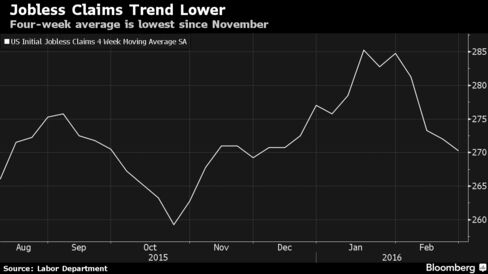 A separate report showed productivity fell less than forecast in the fourth quarter. The measure of output per hour of work dropped at a 2.2 percent annualized rate compared with an initially reported 3 percent decrease. Labor costs climbed 3.3 percent, revised down from a 4.5 percent gain.
The median forecast in a Bloomberg survey called for 270,000 claims last week, with estimates ranging from 260,000 to 282,000.
While there was nothing unusual in the figures, jobless claims were estimated for Oklahoma, the Labor Department said.
The four-week moving average, which smooths out week-to-week swings, decreased to 270,250 from 272,000.
Benefit Rolls
The number of people continuing to receive jobless benefits rose by 3,000 to 2.26 million in the week ended Feb. 20. The unemployment rate among people eligible for benefits held at 1.7 percent. These data are reported with a one-week lag.
For a full year now, claims have been below the 300,000 level that economists say is typically consistent with an improving job market.
The national payrolls report, due on Friday from the Labor Department, may show employers added close to 200,000 workers in February after a 151,000 gain in January, according to the median forecast in a Bloomberg survey. The unemployment rate probably held at an eight-year low of 4.9 percent.
Initial jobless claims reflect weekly firings, and a sustained low level of applications has typically coincided with faster job gains. Layoffs may also reflect company- or industry-specific causes, such as cost-cutting or business restructuring, rather than underlying labor market trends.
Before it's here, it's on the Bloomberg Terminal.
LEARN MORE