Reserve Bank of Australia Holds Rates at Record-Low 2%
Governor Stevens leaves benchmark rate at record-low 2 percent

RBA shows greater confidence inflation will remain contained
Australia's central bank held its policy nerve in the face of global easing and financial market upheaval that's frustrating efforts to shift the economy away from mining. Yet it reiterated that limited price pressure provides scope to ease rates further.
Reserve Bank of Australia Governor Glenn Stevens and his board left the cash rate at 2 percent Tuesday, as forecast by all 27 economists surveyed and in line with traders' bets. Stevens, in a little changed statement, repeated that he was watching the nation's labor market and global and domestic fallout from market turmoil.
"The board judged that there were reasonable prospects for continued growth in the economy," Stevens said today. "With growth in labor costs continuing to be quite subdued as well, and inflation restrained elsewhere in the world, inflation is likely to remain low over the next year or two."
The economy's outlook is a reversal from late last year, when the record-low cash rate and a falling Aussie dollar lifted business conditions and fueled hiring in tourism and education, suggesting the economy had turned the corner. But in the past week alone, the collapse of a major retailer has cost about 2,500 jobs and crumbling commodity prices prompted a large miner to announce plans to fire 1,750 people.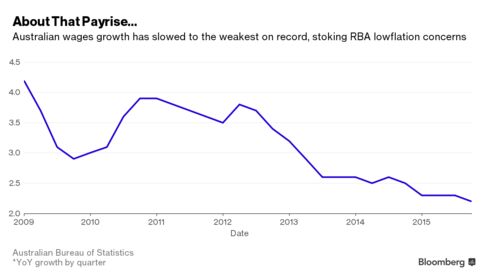 One area where Stevens did amend his language was a tweak in the final sentence, saying low inflation "would" provide scope for easier policy, rather than "may," as in last month's statement. Since the RBA's Feb. 2 meeting, domestic data has been almost uniformly negative: retail sales stagnated, business conditions deteriorated, wage growth slowed to a record low, investment plunged and unemployment unexpectedly spiked to 6 percent from 5.8 percent.
"The word 'would' seems stronger than 'may,' and therefore we can only conclude that the bank has somewhat strengthened its easing bias," said Bill Evans, chief economist at Westpac Banking Corp. in Sydney. "We believe the board is still some way away from delivering on this."
The Australian dollar rose slightly after the decision, trading at 71.36 U.S. cents at 4:51 p.m. from 71.17 cents before the release. Traders are pricing in at least one rate cut in the next six months.
The local currency has climbed since touching a near seven-year low in mid-January. Stevens nevertheless held to his views, reaffirming that "the exchange rate has been adjusting to the evolving economic outlook."
China Cuts
Nonetheless, the global backdrop has deteriorated: China, Australia's key trading partner, stepped up efforts Monday to cushion its economic slowdown amid plunging stock prices and a weakening currency, cutting the amount of cash lenders must lock away. At the same time, disinflation or deflation in much of the developed world has prompted central banks to set negative interest rates, enhancing the attractiveness of Australia's own benchmark.
"Financial markets have once again exhibited heightened volatility over recent months, as participants grapple with uncertainty about the global economic outlook and policy settings among the major jurisdictions," Stevens said. "Commodity prices have declined very substantially over the past couple of years. This partly reflects slower growth in demand but also, in some key instances, large increases in supply."
China's factory gauge extended its stretch of deteriorating conditions to a record seven months while a measure of services fell to the weakest in seven years, data showed earlier today. China is the world's largest buyer of iron ore, Australia's biggest export.
Jobs Go
Domestically, the outlook for employment worsened as electronics retailer Dick Smith Holdings Ltd. announced Thursday it was shutting 301 stores nationwide. Earlier that day South32 Ltd., the world's biggest manganese producer, said it would cut its workforce after reporting a 94 percent drop in first-half earnings following the collapse in commodity prices.
The RBA had hoped non-mining investment would pick up to replace an unwinding of the resources boom. Yet data released Thursday showed firms are planning to reduce their spending by 19 percent in the fiscal year starting July 1, the biggest fall on record. Weak wages growth, too, suggests consumer spending may struggle to support economic growth. Workers' pay rose by a record-low 2.2 percent in the fourth quarter from a year earlier.
Australia's statistics bureau is due to release fourth-quarter gross domestic product data Wednesday and economists predict 0.4 percent growth quarter-on-quarter and 2.5 percent year-on-year. The economy has expanded at a below-average annual pace for all-but one year since the 2008 global financial crisis.
"The RBA will cut interest rates again this year reflecting the risks around the global economy, weaker than expected commodity prices, still subdued growth in Australia at a time when the contribution from housing construction is slowing, a more dovish Fed threatening a higher Australian dollar and continued low inflation," said Shane Oliver, head of investment strategy at Sydney-based AMP Capital Investors Ltd. "However, this may not come till May."
Before it's here, it's on the Bloomberg Terminal.
LEARN MORE