Hollande Delays French Labor-Law Overhaul Amid Union Opposition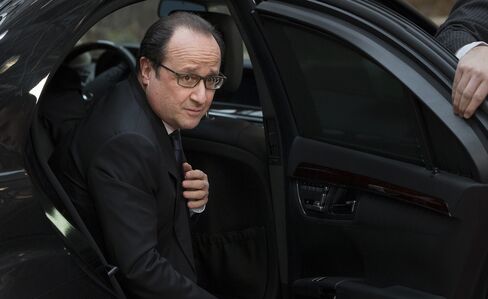 Current plan would gut 35-hour work week, ease firing rules

`We need to clear up misunderstandings,' prime minister says
President Francois Hollande held off presenting his proposals to revamp French labor law after the nation's main unions all opposed the plan.
The bill will now be considered by Hollande's cabinet on March 24 instead of March 9 as originally planned. Prime Minister Manuel Valls said Monday he will meet with unions and business lobbies next week to discuss the matter.
"We're giving ourselves a few more days," Valls said while visiting France's annual agriculture fair in Paris. "We need to clear up the misunderstandings. We remain determined to reform the country."
As it currently stands, the bill would essentially gut the law that limits the French work week to 35 hours. It includes provisions to allow businesses to increase working times with minimal compensation and without real support of unions, as well as changes to make it easier for companies to shed jobs while limiting severance pay.
Hollande's Opponents
While business lobbies have welcomed the changes, workers' representatives are protesting. Martine Aubry -- the mayor of Lille and a former government minister who was the architect of the 35-hour workweek -- signed an open letter this week with Socialist lawmakers accusing Hollande of "enduringly weakening France" with his policies.
The CFDT union, which has favored most economic reforms put forward by the president but was resisting this one, immediately seized on the delay as a victory.
"We've obtained the postponement of the labor law, now we'll fight to obtain a re-balancing of the text," CFDT Secretary General Laurent Berger said on Twitter. "The ceiling on severance pay needs to be dropped, as well as the unilateral power of employers" to carry out job cuts, he said.
Before it's here, it's on the Bloomberg Terminal.
LEARN MORE