Icahn Moves to Consolidate Federal-Mogul in Automotive Play
Offer is 41% higher than stock's closing price on Friday

Shares in auto-parts manufacturer rise above offer price
Federal-Mogul Holdings Corp.'s largest stockholder, activist investor Carl Icahn, offered to buy the remaining 18 percent of the auto-parts maker in a move that would consolidate his automotive interests.
The auto-parts maker's board will appoint a committee of independent directors to review the $212.8 million offer, Southfield, Michigan-based Federal-Mogul said in a statement Monday. The stock on Monday jumped above the $7-a-share offer price, which is 41 percent above the close on Friday.
If he succeeds in buying the rest of Federal-Mogul, Icahn will be able to string together three companies that deal in automotive parts. Icahn Enterprises LP also owns service and retail chains Pep Boys and Auto Plus, which the parent company could use to guarantee sales of Federal-Mogul products such as Anco wiper blades, Champion spark plugs and Wagner brake parts in his sales channel.
"When he bought Pep Boys, I assumed they would be selling Federal-Mogul parts," said Maryann Keller, an independent auto-industry consultant in Stamford, Connecticut. AutoZone Inc., Advanced Auto Parts Inc., O'Reilly Automotive Inc. and Genuine Parts Co.'s NAPA "effectively control after-market parts sales. He can at least protect sales volume at Pep Boys."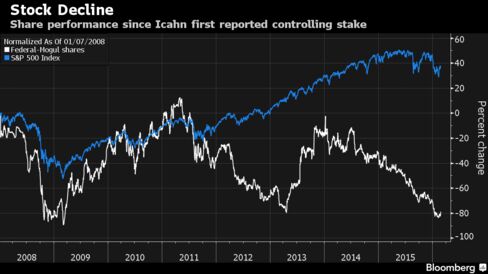 Icahn owns 82 percent of Federal-Mogul, which had a market value of $841.8 million as of Friday. The billionaire's Icahn Enterprises investment vehicle said Monday that the takeover offer will depend on acceptance by a majority of other Federal-Mogul shareholders.
The activist investor could also eventually split the company after he has complete ownership, Keller said.
Icahn got a large stake in Federal-Mogul in 2007 by acquiring bonds before it exited bankruptcy and eventually converting the bonds to equity. The manufacturer canceled plans in January to spin off its motor-parts business, which was split off from the powertrain division in late 2014 in a strategy to enable acquisitions.
Federal-Mogul has been on a rough ride since Icahn increased his stake from 76 percent to 82 percent in August 2011. Back then the stock traded for $17.33 a share before falling 71 percent to $4.98 Friday. The shares jumped 46 percent, the most in seven years, to $7.26 Monday after soaring as much as 55 percent.
Investors may be expecting that Icahn's first offer won't be his best and that they can get a little more value by waiting him out, Keller said.
The independent directors will review Icahn's bid and if they think he should pay more they will negotiate, said Mario Gabelli, chairman and founder of Gamco Investors Inc., which is the second-largest shareholder with 6.1 percent of the stock.
"It's very hard to fight someone who owns 80 percent of the company," Gabelli said in a phone interview.
Quarterly Results
Separately, the company announced its fourth-quarter adjusted profit of 22 cents a share that beat the consensus of 12 cents. Sales were little changed at $1.8 billion. Federal-Mogul reported a net loss of $56 million after incurring restructuring charges of $98 million.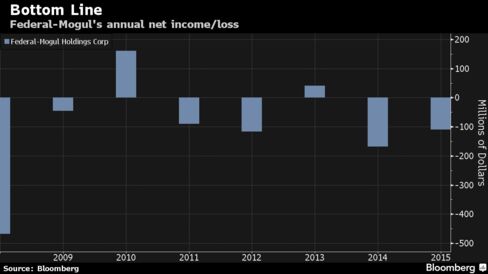 Now Icahn is trying to find ways to create value and eventually exit the business, Keller said.
"He made a mistake getting in it," she said. "He underestimated the challenges of getting in the auto-components business. Now he will look for a different solution."
Before it's here, it's on the Bloomberg Terminal.
LEARN MORE