Man Group Joins Russia Local Bond Bulls After Ruble's Plunge
OFZs are among best bets in emerging markets, strategist says

Guillermo Osses also likes local debt in Brazil, Chile
Russia's local-currency bonds are among the worst performers in developing nations this year. A strategist for the world's largest publicly-traded hedge fund manager sees them as some of the best bets in emerging markets.
Guillermo Osses, the head of emerging-market debt strategies at a unit of Man Group Plc who previously oversaw more than $20 billion at HSBC Global Asset Management, joins a growing list of bulls predicting a rebound in the country's local bonds. The so-called OFZs have posted an average decline of 1.4 percent in 2016 in dollar terms, compared with a mean return of 1.4 percent across developing nations.
Osses, who has 24 years of experience in the debt market, is undeterred by the risks. Volatility in the ruble, which has lost 18 percent in the past year, has prompted analysts to turn more pessimistic about the nation's inflation forecast and the pace of interest-rate cuts. A stabilization in oil could support the ruble, and easing inflation this year may allow the Bank of Russia to resume interest-rate cuts after halting them since September, which would bode well for the country's local-currency debt, he said.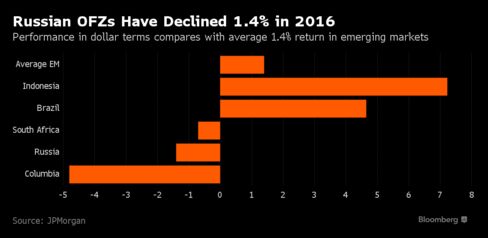 "You get a significant yield potential buying an asset that may be significantly undervalued, and even though the environment looks very scary, the reality is that, in my opinion, the risks are less significant when the asset is already so undervalued and the yield is so attractive," he said.
OFZ Demand
Oil, the country's largest export, has plunged 47 percent since last year's high in May. More stable crude prices would help strengthen the ruble and slow inflation, prompting policy makers to resume interest-rate cuts. The end result would be more money in Russia's financial markets, which would boost demand for OFZs, one of the most liquid securities.
The OFZs' decline this year was the fourth-biggest among emerging-market bonds, according to data compiled by JPMorgan Chase & Co.
Osses in January started working for Man GLG, the company's discretionary investment unit. The manager, who previously headed fixed-income strategy at HSBC for almost five years, also sees opportunities in local-denominated debt of Brazil, Turkey, South Africa, Indonesia, Chile and Colombia.
Not all strategists agree. Morgan Stanley recommended being "maximum underweight" Russian local-currency bonds in January. HSBC turned more bearish on OFZs this month, saying the yield curve will steepen as the expectation of lower inflation and interest rate cuts are under threat. Credit Suisse Group AG's head of fixed-income trading this month said yields would need to rise at least 1 percentage point to offset Russia's economic risks.
Interest-Rate Forecasts
The central bank cut the key rate from 17 percent before oil's plunge pushed the ruble to a record low amid some of the biggest price swings in the world. Policy makers will probably reduce benchmark borrowing costs by 150 basis points to 9.5 percent by the end of the year, according to the median forecast of economists surveyed by Bloomberg.
Osses's call on Russia's OFZs is similar to analysts at firms from Bank of America Corp. to Aberdeen Asset Management Plc. Bank of America's global head of economic research Alberto Ades lists Russian local-currency debt as his top pick for this year. He expects the central bank to cut the key rate by 250 points in 2016 amid a "strong" easing of inflation, according to a report published last week. Stuart Sclater-Booth, who helps oversee $45 billion at Stone Harbor and is overweight Russian OFZs against the benchmark index, said in an interview this month he's considering buying more.
Oleg Popov, a portfolio manager who oversees about $500 million at Moscow-based April Capital, has been buying OFZs in the past two weeks.
Slowing Inflation
"It is clear to investors what the risks of investing in Russian local-currency bonds are, and if no geopolitical black swan events happen and the ruble stays at a stable rate, the gradual decrease in inflation and a resumption in the easing cycle will bode well," he said.
Annual inflation slowed to 9.8 percent in January from almost 13 percent in December. That's still far from the central bank's medium-term target of 4 percent. The ruble rose 1 percent to 76.2 against the dollar last week and Brent crude gained 6.3 percent to $35.10 a barrel, narrowing its loss this year to 5.6 percent. The yield on five-year notes fell seven basis points to 9.74 percent on Monday.
"In my estimation, the probability for the currency to depreciate as much as we've seen in over the last three years is much lower than what the market is probably factoring in," Osses said. "The ruble is now at such a weak level, you see a significant improvement in the current account, in spite of the fact that oil prices have continued to fall."
(A previous version of the story corrected the assets under management in the second paragraph.)
Before it's here, it's on the Bloomberg Terminal.
LEARN MORE