Most-Volatile February for Currencies in Six Years Hints at More
Implied three-month yen volatility higher than sterling rate

Japanese currency is best performer in 2016 amid risk aversion
Currency traders are enduring the most-volatile February in six years, and implied price swings suggest more fluctuations ahead.
Realized three-month volatility for the yen has risen to 10.5 percent, the highest since March, and a measure of future volatility is approaching the highest since 2013. For the British pound, historic volatility has shot up to 9 percent and implied fluctuations are nearing 12 percent, the highest in almost a year.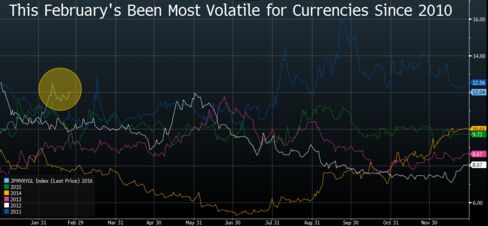 Measures of implied volatility typically exceed those of historic price swings to capture future outcomes. Slowing growth in China and patchy economic data in the U.S. have raised the stakes for central-bank policy, suggesting recent moves may be the tip of the iceberg as Group-of-20 finance ministers and central bankers meet in Shanghai starting Friday.
Volatility "is a bit like Goldilocks, you don't want to be too hot or too cold," said Mark Astley, the London-based chief executive officer of Millennium Global Investments, which oversees about $16 billion. "Very few people, if anybody, expected the start of the year to be so gripped by the Chinese phenomenon and subsequent spillover into uncertainty about the global economy."
JPMorgan Chase & Co.'s global currency volatility measure has averaged 11.5 percent this month, the most for a February month since 2010.
The yen slipped 0.7 percent to 113 as of 5 p.m. in New York, while the pound added 0.3 percent to $1.3962, its first gain in four days.

Most Volatile
Traders foresee bigger swings in the yen than in the pound in the next three months, even as the U.K. prepares to vote on whether to remain in the European Union.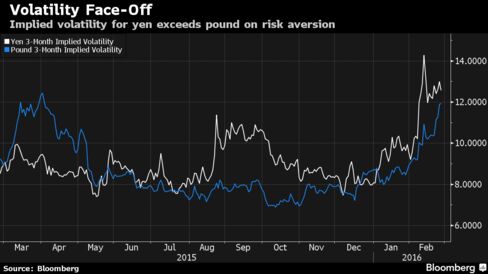 With the U.K.'s June 23 referendum beyond the scope of the three-month time period, the prospect of the Bank of Japan intervening in currency markets to curb gains in the yen is proving a bigger driver of implied volatility. The BOJ's unexpected expansion of stimulus last month hasn't stemmed the strength in the yen that made it the best-performing major currency this year, with a gain of more than 6 percent against the dollar.
"If February is supposed to be calm, and it's volatile, then the volatility expected in March is higher because there will be central banks returning and we will get some answers to the questions that are hanging," said Alfonso Esparza, a senior currency analyst at Oanda Corp. in Toronto. "Political uncertainty is high on the agenda."
Before it's here, it's on the Bloomberg Terminal.
LEARN MORE