Asian Stock Markets Diverge as Japan Rallies While China Slumps
Japan's Topix surges 1.8% on speculation of extra budget

Chinese stock markets slide after money-market rates jump
Asia's two biggest stock markets diverged Thursday, with speculation of additional government spending buoying Japan's Topix index while Chinese equities plunged.
The Shanghai Composite Index sank 6.4 percent for its steepest loss in a month as the overnight money rate, a gauge of liquidity in the financial system, climbed the most since Feb. 6. The Topix closed 1.8 percent higher, with construction shares leading gains after a report lawmakers are considering expanding a spending package ahead of the summer elections.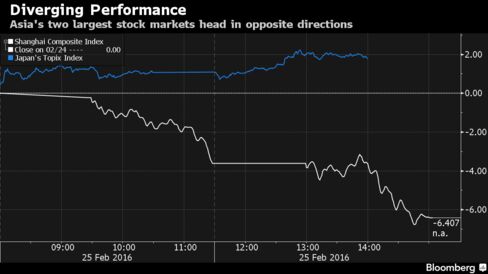 "Globally, policymakers' mindset is moving from monetary to fiscal, so Japan's move to create an extra budget is commendable," said Nobuhiko Kuramochi, head of investment information at Mizuho Securities Co.
The MSCI Asia Pacific Index rose 0.1 percent to 119.65 as of 8:05 p.m. in Tokyo, with share gauges in South Korea, Taiwan and Australia also finishing higher. Volatility over the past 30 days on the regional benchmark index remains near the highest level in four years amid tumbling oil prices and concern over the slowdown in China's economy.
Japan is considering an extra budget worth about 5 trillion yen ($45 billion), TV Asahi reported, citing several unidentified ruling party officials. Sharp Corp. plunged 14 percent after striking a deal for Foxconn Technology Group to take control of the Japanese electronics firm.
South Korea's Kospi index advanced 0.3 percent and Australia's S&P/ASX 200 Index rose 0.1 percent. Taiwan's Taiex index gained 1 percent. New Zealand's S&P/NZX 50 Index slid 0.1 percent. Hong Kong's Hang Seng Index fell 1.6 percent and the Hang Seng China Enterprises Index retreated 2.4 percent.
Shanghai Plunge
The Shanghai Composite's slump extended its decline this year to 23 percent. Data showing a record surge in bank lending and signs of a stabilizing yuan had helped fuel a rebound since trading resumed after the lunar new year holiday, with the equity gauge gaining 10 percent from its January low.
The renewed plunge underscores the challenge for China's policy makers as they seek to project an image of stability in the nation's financial markets as the economy slows. Finance chiefs and central bankers from the Group of 20 will meet in Shanghai on Friday, while the annual meeting of the legislature begins in Beijing next week.
U.S. Treasury Secretary Jacob J. Lew downplayed expectations for "crisis response" at the G-20 talks in a Bloomberg TV interview, saying the world was currently in a "non-crisis environment." Shane Oliver, at AMP Capital Investors Ltd., agreed.
"It would be nice to see some collective statement from the major central banks that they're aware of the problems and that they can't operate in isolation in this environment," said Oliver, head of investment strategy in Sydney at AMP Capital, which oversees about $120 billion. "I don't hold out a lot of hope. We're not in enough of a crisis yet to see a crisis response."
Before it's here, it's on the Bloomberg Terminal.
LEARN MORE