China's Equities Plunge Most in a Month as Volatility Reignites
Shanghai Composite sinks more than 6% as industrials tumble

Rout comes as G-20 finance ministers gather in Shanghai
China's stocks tumbled the most in a month as surging money-market rates signaled tighter liquidity and the offshore yuan declined for a fifth day.
The Shanghai Composite Index sank 6.4 percent at the close, with about 70 stocks falling for each that rose. Industrial and technology companies led losses. The overnight money rate, a gauge of liquidity in the financial system, climbed the most since Feb. 6.
The plunge in equities underscores the challenge for China's policy makers as they seek to project an image of stability in the nation's financial markets as the economy slows. Finance chiefs and central bankers from the Group of 20 will meet in Shanghai on Friday, while the annual meeting of the legislature begins in Beijing next week. The return of volatility is also a test for China's new top securities regulator, who took over on the weekend after his predecessor was removed amid criticism of mismanagement.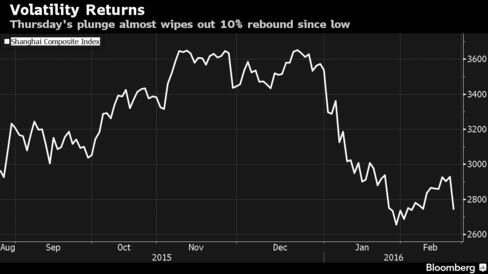 "The market is in a quite fragile state when everyone scrambles for an exit," said Central China Securities Co.'s Shanghai-based strategist Zhang Gang, who accurately predicted last year's June selloff. "None of the news in the market is sufficient enough to trigger such a slump."
Besides signs of tightening liquidity, analysts said stocks tumbled amid concern recent gains weren't justified by fundamentals and policymakers may introduce policies to restrain housing-price gains in some of the nation's largest cities. Losses accelerated in the afternoon after regulators banned Zhongrong Life Insurance Co. from adding to its equity investments.
Tighter Liquidity
China's overnight repurchase rate increased 14 basis points to 2.11 percent. Some banks were obliged to set aside more funds as reserves at a time when open-market operations are draining cash from the financial system. Effective Thursday, the People's Bank of China normalized reserve requirements for some lenders that had been assigned preferential terms.
"Market confidence is very weak so an increase in money-market rates triggered a sell-off today," said Wu Kan, a fund manager at JK Life Insurance Co. in Shanghai. "Technically speaking, the rebound has reached its target and a new round of declines is resuming. I am not too sure that the government will step in to buy stocks now," said Wu, who is cutting stock allocations to between 40-50 percent of holdings.
The first indicators for China's economy this month signal its slowdown hasn't bottomed out yet, despite banks extending record new loans in January. Private gauges of manufacturing and services fell to new lows, a reading of business confidence slipped, and interest in small and medium sized businesses deteriorated, the readings show. If confirmed in official data for February that starts to roll out from March 1, such weakness would suggest a slowdown in the nation's old growth drivers may be deepening.
Trading Jumps
Today's declines almost erased a 10 percent rebound in the benchmark equity index from a January low. The Shanghai Composite has fallen 23 percent this year, the world's worst performer after Greece. Volumes on the gauge were 43 percent above the 30-day average.
The Hang Seng Index lost 1.6 percent in Hong Kong, while the Hang Seng China Enterprises Index retreated 2.4 percent. The ChiNext index of small-cap shares slumped 7.7 percent. The CSI 300 Index declined 6.1 percent, with gauges of technology and industrial companies plunging more than 7 percent.
China Shipbuilding Industry Co. and Avic Aircraft Co. led declines for industrial shares, plunging by the daily limit of 10 percent. Goertek Inc., an Apple Inc. supplier, and East Money Information Co., the third-most heavily weighted stock in the ChiNext, also slumped 10 percent. Beijing Enlight Media Co., the distributor for the hit Chinese film The Mermaid, plunged 10 percent.
Zhongrong Life
"Some small-cap stocks have had a very good run-up recently and that has prompted some traders to trim their holdings and take profits," said Wang Zheng, who has been adding to his holdings recently as the Shanghai-based chief investment officer at Jingxi Investment Management Co.
China Life Insurance Co., the nation's biggest insurer, plunged 8.5 percent. The China Insurance Regulatory Commission said unlisted Zhongrong Life can't add to holdings because its solvency ratios fell into the criteria of insolvent insurers.
"The government is trying to make sure all insurance companies need to meet potential demand for claims from clients and keep liquidity ample," said Castor Pang, head of research at Core-Pacific Yamaichi Hong Kong. "But almost all insurers which heavily bought shares last year when the Shanghai Composite was at high levels" are facing problems, he said.
Property Prices
Shenzhen-based Gemdale Corp. slid 3 percent after the 21st Century Business Herald reported the government is considering ways to control home prices in the southern Chinese city bordering Hong Kong. Prices in Shenzhen, where new-home prices surged 58 percent from a year earlier, was seven times the average in Changchun, which has the cheapest houses among the 23 second-tier cities, data showed last month.
Agile Property Holdings Ltd. dropped 7.2 percent in Hong Kong, the most in six months, after saying it expects 2015 profit to drop 70 percent on lower selling prices and foreign-exchange losses from yuan depreciation.
"Hopes for rate cuts are waning after property prices surged in big cities, while the central bank has cut its daily yuan fixing," said Ken Chen, Shanghai-based analyst at KGI Securities Co. "Lower expectations are prompting a correction after a 10 percent rally."
— With assistance by Shidong Zhang, and Kyoungwha Kim
Before it's here, it's on the Bloomberg Terminal.
LEARN MORE