Google project counts readers toward monthly article limits

Conde Nast, Financial Times to test Facebook's platform
The New York Times has moved guardedly with Facebook Inc. and Apple Inc., posting just 30 articles a day on new platforms controlled by those companies.
Starting Wednesday, the Times will be posting more than double that number of stories on a new alternative newsreader promoted by Google Inc. The reason? The Times asks readers to buy digital subscriptions after getting 10 free articles a month. Google readers count toward that limit. Facebook and Apple readers don't.
Publishers have been tentative about fully embracing new digital platforms for their articles because they want to protect revenue from online ads and subscribers as their print business has waned. Google, by pushing readers toward paid subscriptions, is giving media companies a tool they've craved and may put pressure on Facebook and Apple to follow suit.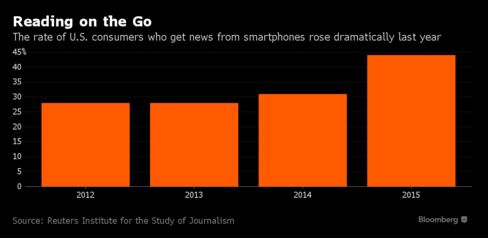 Some publishers who've posted articles on platforms controlled by Facebook and Apple say they are seeing an increase in readers while others say they're missing out on some revenue opportunities because of restrictions on advertising.
Publishers keep 100 percent of the revenue if they sell ads on Facebook Instant Articles and Apple News, and Facebook and Apple take a 30 percent cut of the ads that they sell. There's no revenue sharing with Google because it works just like a publisher's website. Google also doesn't limit the number of ads on the page.
While Google offers a more attractive model for advertising and paywalls, it still relies heavily on readers searching for information, while Facebook and Apple can use social media and smartphone apps to suggest articles readers weren't actively looking for.
Faster Loads
All three Silicon Valley companies are trying to make articles load faster on smartphones, where websites can take 10 seconds or more to open because they're weighed down by lines of code that deliver advertising. That delay is causing publishers to lose mobile readers and the chance to make money through advertising and subscriptions.
Facebook and Apple have sought to fix the problem by asking that articles be posted directly inside their own apps instead of via publishers' websites. Critics have warned that media companies could lose control of their content under this arrangement.
Google's project differs because publishers still post to their own websites, and the load times are made faster because the Web pages are "cached," or loaded in advance. Google says it won't give better treatment to publishers that are part of the project, although speed is one factor in Google's search rankings.
Conde Nast plans to start adding a limited number of GQ and Vanity Fair articles to Facebook's new platform. Yet, it won't post stories from the New Yorker -- which requires a subscription to read more than six a month -- until Instant Articles readers count toward that monthly limit, according to a person with knowledge of the company's plans.
Paywall Concerns
"Where do you find that medium that's the best possible experience for the user without sacrificing your business needs?" said Fred Santarpia, chief digital officer at Conde Nast.
The Financial Times, which also has a subscription model, plans to make a "limited" selection of its stories available with Facebook, Google and Apple, said Christopher Chafin, a spokesman for the newspaper.
The Wall Street Journal posts articles on Apple News and Google's project, but isn't part of Facebook's program. Ashley Huston, a spokeswoman for News Corp.'s Dow Jones, publisher of the Journal, declined to comment, though the paper reported last week that it hasn't agreed to join Instant Articles because of concerns over how to incorporate its paywall.
The Washington Post, which has been posting all of its articles inside Facebook's app since September, is seeing more repeat visitors through the Instant Articles service than it did on its own mobile website, according to Julia Beizer, the Post's director of product. Facebook users see the small lightning bolt denoting an Instant Article and seem more willing to read, she said.
No 'Penalty'
"Whether it's subconscious or not, readers know they're not going to incur a loading penalty when they tap on the article," Beizer said.
Instant Articles, however, provides limited data and doesn't let publishers sell sponsored content, or marketing messages that are designed to look like news articles, BuzzFeed publisher Dao Nguyen said last week at the Re/Code conference.
The Facebook service "needs to provide us with some of the other kinds of things that we, as publishers, need to have. And a lot of that is about monetization, about data and control over certain things," Nguyen said.
Apple, meanwhile, didn't give publishers accurate reader metrics for several weeks because of a software bug. An Apple spokeswoman declined to comment about whether the company plans to incorporate publishers' paywalls into Apple News.
A Facebook spokesman said publishers have access to a wide range of data, including how often readers open articles and how much time they spend reading them. Facebook is also testing strategies to encourage Instant Articles readers to sign up for subscriptions, said Will Cathcart, Facebook's vice president of product management.
Despite the trade-offs, publishers say they have little choice but to join forces with the tech companies if they want access to the tens of millions of people who are getting news on smartphones.
"You can't say 'I don't want to put anything on Facebook because all you're doing is limiting your own distribution,'" said Kimberly Lau, vice president and general manager for The Atlantic Monthly. "We want to be where the audience is.''
Before it's here, it's on the Bloomberg Terminal.
LEARN MORE