Honda CEO Revamps Carmaker That's Expanded `Beyond Our Means'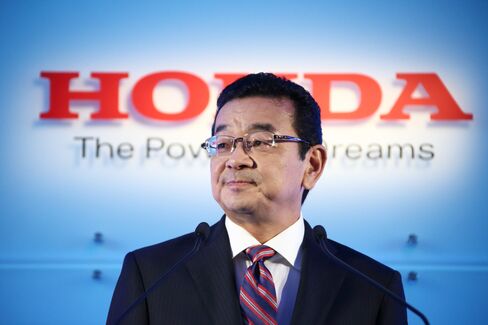 Organizational issues risked `serious harm,' Hachigo says

President builds management team as top executives retiring
Honda Motor Co. will overhaul vehicle development after trying to introduce models too fast and expand too quickly, with Chief Executive Officer Takahiro Hachigo reshaping the carmaker amid lingering quality problems.
Japan's third-largest automaker was "driven to launch models optimized for each region at a pace and scale beyond our means," Hachigo, 56, said Wednesday, after sweeping management changes including the resignation of Honda's chairman and the CEO's second-in-command. The automaker will shake up its product-development structure, create new positions to supervise designs and clarify roles for quality, sales and other divisions.
Hachigo is looking to revamp Honda one year after succeeding Takanobu Ito, who stepped down as CEO after missteps with product introductions. The new president is having similar challenges, with Honda recalling thousands of 2016 Civic cars only months after starting sales of the most crucial redesigned model under his tenure. The automaker also faces the potential need to support Takata Corp., one of its biggest suppliers, as the air-bag maker struggles to contain the industry's biggest safety recall ever.
In visiting Honda's auto business operations as the new CEO since June, Hachigo said he found overburdened teams on production floors and research-and-development centers.
"We began to see more organizational issues, such as unclear responsibilities of each area and insufficient level of delegation," he said. "This could seriously harm the driving force engine behind Honda's creativity."
Honda's newest and senior-most executives include Seiji Kuraishi, who's being promoted from head of the company's China business to executive vice president and Hachigo's No. 2. Yoshiyuki Matsumoto, designer of the original Fit small car, takes over as R&D chief. The company also announced:
Chairman Fumihiko Ike, Executive Vice President Tetsuo Iwamura, and seven other top executives will retire
Asako Suzuki, the head of Honda's China joint venture with Dongfeng Motor Corp., will become the company's first female operating officer
Yasuhide Mizuno, the chief for Honda's local joint venture with Guangzhou Automobile Group, will succeed Kuraishi to lead China operations
Toshiaki Mikoshiba will take over North America operations, replacing Takuji Yamada, who will retire
Katsushi Inoue will succeed Mikoshiba as Europe chief, after leading Honda in India


Honda detailed its latest recall, for the 2016 Civic, hours before Hachigo's press conference to discuss changes to management and the organizational structure. The company is calling back 42,000 cars with 2-liter engines after learning of an engine fire and another unconfirmed report of an injury related to poorly assembled engine pistons.
The Civic recall is a setback for a key redesigned model that has been winning acclaim. The car received the North American Car of the Year award in January, which is decided by a committee of automotive journalists.
'Quality Problem'
"Their quality problem is still going on," Koji Endo, an analyst with Advanced Research Japan, said by phone before Honda announced managements changes. "It's not just one person's responsibility; it's the responsibility of the whole organization. I don't know if just switching the top can solve all the problems."
Quality issues aside, Honda has its bright spots. The promotions for three of Honda's top executives in China follow the company crossing sales of 1 million vehicles in the world's largest market for the first time in 2015. In California, the most populous U.S. state, the Civic compact and Accord sedan were the two best-selling vehicles last year.
Hachigo is "rekindling the core values of the company, and really focusing on who Honda is and why," said John Mendel, executive vice president of the Honda's U.S. unit. "I don't think we've strayed from those values, but there's been a lot of turnover since Soichiro Honda was walking around the halls hitting people with wrenches."
Takata's Woes
As Honda makes internal changes, it isn't thinking about providing support to Takata, Hachigo reiterated on Wednesday. Since 2008, the automaker has recalled vehicles worldwide to replace about 30 million Takata air bag inflators, which can rupture and spray metal and plastic shards at vehicle occupants.
The components have been linked to nine fatalities in Honda models, and the cause of death in a 10th incident is still being investigated.
Honda fell 2 percent to 2,848 yen at the close in Tokyo, compared with the 0.5 percent decline in the benchmark Topix index. The company's shares have dropped 27 percent this year.
Before it's here, it's on the Bloomberg Terminal.
LEARN MORE