Five Charts That Show Why This South Africa Budget Is So Crucial
Debt has almost doubled since Zuma became president in 2009

GDP growth forecasts being downgraded to below 1 percent
All eyes are on South African Finance Minister Pravin Gordhan when he delivers his budget speech on Wednesday to see how he balances support for a weak economy with curbing debt.
These five charts show why this budget is one of the most keenly watched since President Jacob Zuma took office in 2009.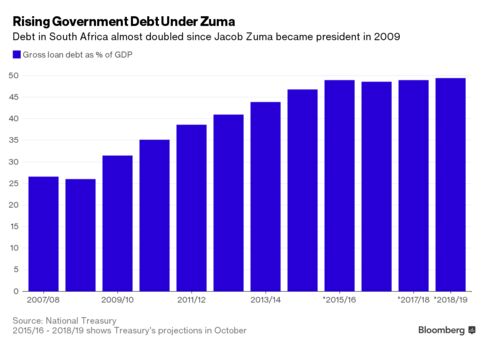 Gross debt has almost doubled to close to 50 percent of gross domestic product since Zuma took office seven years ago amid a recession and market turmoil following the global financial crisis. Sluggish economic growth and rising debt led credit-rating companies to gradually downgrade South Africa's sovereign rating since then.
Standard & Poor's has a negative outlook on its rating of BBB-, the lowest investment grade. Fitch Ratings has an equivalent assessment on South African debt, with a stable outlook, while Moody's Investors Service rates the nation two levels above junk.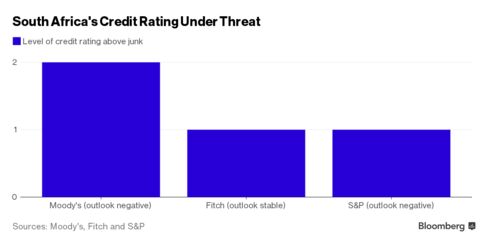 To narrow the budget deficit and keep debt under control, Gordhan may raise taxes, including on personal income, fuel or even the value-added tax rate. The VAT rate has stayed unchanged at 14 percent for more than two decades.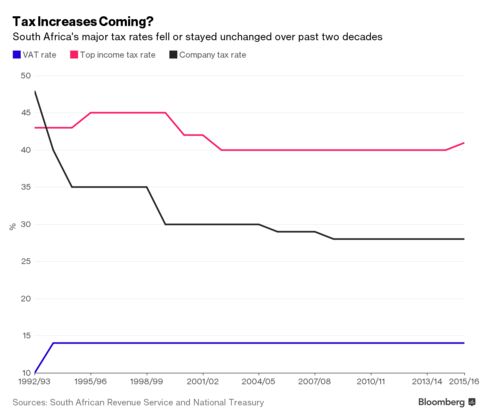 A 1 percentage-point increase in VAT could raise as much as 15 billion rand ($985 million) a year in additional income, according to BNP Paribas Securities South Africa. While doing that may help fill the revenue hole, it would be politically risky in a year when the ruling African National Congress wants to win votes in local-council elections.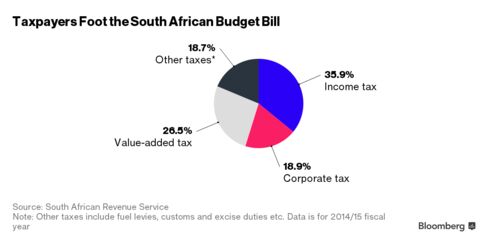 Key to Gordhan's budget is how far he can push up taxes without further hurting the economy and fueling protests. The International Monetary Fund, World Bank and South African Reserve Bank have all cut their 2016 economic growth forecasts to less than 1 percent, and Gordhan will probably reduce the government's current projection of 1.7 percent.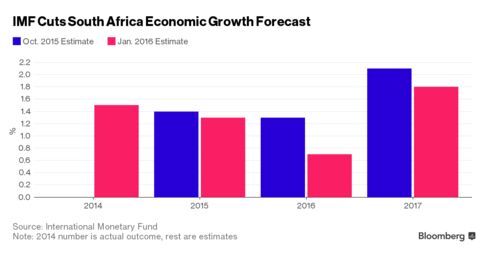 Before it's here, it's on the Bloomberg Terminal.
LEARN MORE