Einhorn Shorts Heavy Industry, Betting on Commodities Slump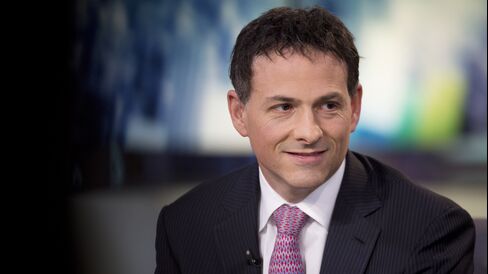 Commodities slump may exert long period of headwinds

Hedge fund manager affirms confidence in Apple, GM shares
Hedge fund manager David Einhorn said he's betting against stocks of heavy-equipment manufacturers because he expects a long-term slump in commodity prices.
"Bulls are assuming the current commodity environment is an ordinary cyclical downturn," Einhorn said Tuesday on a conference call discussing results for Greenlight Capital Re Ltd., the Cayman Islands-based reinsurer where he is chairman. "We believe it is the end of a commodity supercycle, and this will exert a long period of earnings headwinds for these companies." He didn't specify which manufacturers he's shorting.
Einhorn is seeking to recover from his worst year since the financial crisis after he was burned by losses on companies such as Micron Technology Inc., SunEdison Inc. and Consol Energy Inc. He said that in recent months he increased the share of his portfolio that's betting against stocks, a move that helped January results. The hedge fund manager has been shorting oil frackers, such as Pioneer Natural Resources Co., and said stock prices of such companies "are finally starting to reflect their challenged business models."
Einhorn's main hedge fund recovered 1.4 percent in January, helping the reinsurer rebound after four-straight quarters of losses. The money manager oversees investments for Greenlight Re.
Natural Gas, Gold
The net loss for the three months ended Dec. 31 was $43.1 million, compared with profit of $60.7 million the year earlier, the company said after markets closed Monday. The reinsurer slipped 34 cents to $19.80 at 10:31 a.m., narrowing its advance this year to 5.8 percent after a 43 percent plunge in 2015.
The hedge fund manager hasn't been bearish on all commodities. He said Tuesday that he expects the price of natural gas to recover over the next year. He also maintains a large stake in gold, which he's held for years, sticking with the view that central banking stimulus efforts will stoke inflation. He endured the metal's decline in 2015, and it has rebounded this year.
"Currently, market participants seem to be concerned about a global slowdown, and are losing faith in central bankers," he said. "The U.S. economy is challenged due to the strong dollar and beaten-down energy sector, and policymakers have very little room to maneuver in the event of a real downturn."
Apple, GM
Still, he said low oil prices may help consumer spending in the U.S. and affirmed his bets on General Motors Co. and Apple Inc., which have slumped this year. His hedge fund is benefiting from a surge in Macy's Inc., a position he added in the fourth quarter. The value of Einhorn's stake in luxury goods-seller Michael Kors Holdings Ltd. has also climbed in 2016.
"Wages are slowly rising, and there's an effective tax cut in the form of low energy prices," he said. "It remains to be seen whether the U.S. consumer will provide support for corporate earnings. And, if not, at least we hope they buy iPhones, GM cars and Michael Kors bags, particularly at Macy's."
Before it's here, it's on the Bloomberg Terminal.
LEARN MORE