Danone Forecasts Improved Profitability on Yogurt Recovery
Revenue to rise 3% to 5% with `solid' margin advancement

Shares rise as much as 4.3% after CEO says no need for big M&A
Danone, the world's biggest yogurt maker, forecast profitability to improve in 2016 as its fresh-dairy business recovers in Europe, sending the shares higher.
Trading operating margin should show a "solid" improvement in 2016, the Paris-based company said in a statement Tuesday. That's a change from last year's forecast of "slight" growth. The margin widened to 12.9 percent in 2015 from 12.6 percent in 2014, the first annual increase in four years. The shares rose as much as 4.3 percent.
The results were "slightly ahead of expectations, fairly straightforward, surprise-free and fully in-line with full-year guidance," said Andrew Wood, an analyst at Sanford C. Bernstein. That "is always positive for a company like Danone trying to rebuild its reporting reputation."
Fresh-dairy sales rose 0.6 percent in 2015 and profitability of the unit widened to 10 percent of sales from 9.3 percent. The maker of Activia yogurt gets more than half its sales from that business, which has been weighed down by years of rising milk prices and a consumer slump in western Europe.
Not Needy
Danone doesn't need to make big acquisitions, though will continue making small ones, Chief Executive Officer Emmanuel Faber said at a press conference. He declined to comment on recent speculation the French company may be interested in buying infant formula maker Mead Johnson Nutrition Co. Danone is focused on improving its cash position to invest in organic growth and doesn't plan to buy back shares, Chief Financial Officer Cecile Cabanis said.
Sales across the company will rise 3 percent to 5 percent on a like-for-like basis this year after a 4.4 percent increase in 2015, the smallest in six years, Danone said. The analyst consensus for 2016 is for revenue growth of 4.3 percent and margin improvement of 42 basis points, according to Eddy Hargreaves, an analyst at Canaccord Genuity Ltd.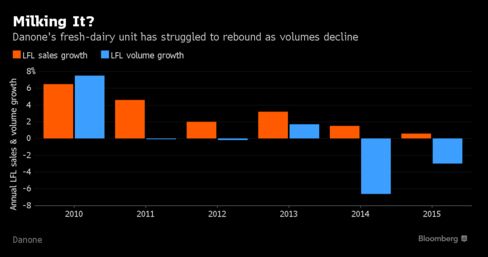 The French company joins its bigger rivals with a muted outlook for this year as economies stall worldwide. Nestle SA last week forecast sales growth will miss its long-term target for a fourth year as it becomes harder to raise prices. Unilever, the maker of Ben & Jerry's ice cream, said on Jan. 19 that it's preparing for tougher market conditions and high volatility this year.
Not Complaining
"We can find little cause for complaint," wrote Jeff Stent, an analyst at Exane BNP Paribas, adding that Danone usually errs "on the side of optimism" with annual forecasts. "The only surprise here to our mind is that Danone has been sensible enough to embrace this range."
Danone said Russia, China and Brazil are difficult markets and said "volatile" currency shifts may undermine emerging market growth. It expects "fragile or even deflationary" consumption in Europe.
Danone said it expects to conclude the exchange of its stake in ailing Chinese infant-formula brand Dumex with Yashili International Holdings Ltd. in the first half. The company said in July it would receive a bigger stake in Yashili's parent company, China Mengniu Dairy Co. That transaction should boost 2016's margin by 20 basis points on top of the "solid" improvement, CFO Cabanis said on a conference call with analysts.
Chairman Franck Riboud will give up an expanded strategic role during 2017, becoming a traditional non-executive chairman, Danone also said. He had been given extra duties for an transition period after the company gave his CEO role to Faber in 2014.
Adjusted operating profit rose 8.6 percent to 2.89 billion euros ($3.2 billion). Analysts expected 2.88 billion euros, according to the average estimate. Fourth-quarter sales rose 3.6 percent, beating the consensus of 3.2 percent.
Before it's here, it's on the Bloomberg Terminal.
LEARN MORE