Rare U.S. Power Sales Gain Reveals Bright Spots in Oil's Bust
Pipeline operators and refiners still boosting power demand

AEP and FirstEnergy saw increased sales in shale regions
Utility earnings are belying the slowdown in the U.S. oil patch.
Power suppliers are reporting increasing sales to oil and natural gas companies, even in the midst of an unprecedented drop in exploration. FirstEnergy Corp., Entergy Corp. and American Electric Power Co. Inc. have all said their revenue from energy customers such as pipeline operators and fuel manufacturers rose in the fourth-quarter.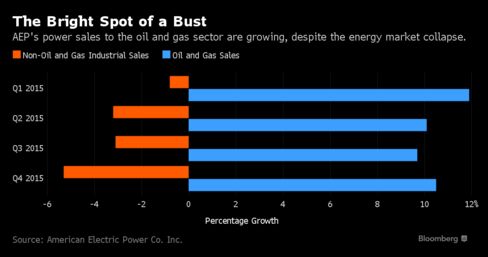 The gains reveal some bright spots in the historic collapse of U.S. energy markets. The more resilient -- and more power-dependent -- segments such as fuel shippers and refiners are still drawing electricity. And they're more than making up for the slide in oil and gas drilling, a business that depends heavily on diesel fuel as opposed to power anyway.
"Operators who have pipelines and gathering systems that they are working on are, in many cases, continuing to" develop them, said Kit Konolige, an analyst for Bloomberg Intelligence. "I guess there is a lot of forward momentum once you get them going and that doesn't change in a big way due to near-term price fluctuations in oil."
U.S. crude futures have slid 42 percent in the past year, settling at $29.64 a barrel on Friday. Gas prices are down 36 percent.
The sales boost from the oil and gas sector serves as a bright spot for utilities, too, a group that has struggled with tepid power demand, particularly in the fourth quarter when warm weather depressed sales. Duke Energy Corp., the nation's largest utility, said on Feb. 18 that an exceptionally mild winter cut into revenue and led it to miss analysts' expectations. Ameren said Feb. 19 that its net income fell 40 percent from a year ago on weak, weather-related sales.
"Given the impact low energy prices are having on our regional economy, one might expect our electricity sales to the oil and gas related sectors to be down," American Electric Power Co. Inc. Chief Financial Officer Brian Tierney said in a call with investors on Jan. 28. Instead, he said, "sales to oil and gas sectors are at all-time highs."
Before it's here, it's on the Bloomberg Terminal.
LEARN MORE