U.S. Spurns Turkey Demand to Cut Kurdish Ties After Bombing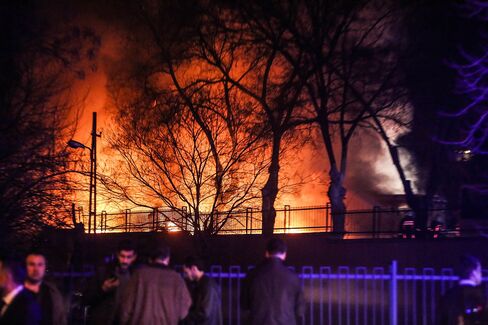 `It's not about choosing sides,' spokesman Kirby says

Turkey blames Syrian Kurd group for killing soldiers in Ankara
The U.S. said it won't break off ties to a Kurdish militia that's fighting Islamic State in Syria, rebuffing the demands of NATO member Turkey, which blames the group for a bombing in the capital Ankara this week.
Turkey says Wednesday's attack on a military bus, which killed 28 people, was carried out by the PKK and its Syrian affiliates. The U.S. agrees with Turkey that the PKK, which has been fighting for autonomy in Turkey's Kurdish regions for three decades, is a terrorist group. But the status of the Kurdish fighters in Syria has been straining ties between the NATO allies, as their interests there diverge after more than five years of war.
The U.S. says defeating Islamic State, also known as Daesh, is the overwhelming priority. Turkey has signed up for that goal, but it's also trying to prop up rebels in northwest Syria fighting against President Bashar al-Assad, whose Russian-backed army threatens to encircle them. The Syrian Kurds are in position to cut off vital supply lines to Aleppo, where the opposition groups are holed up, and their territorial gains may also set an example for Kurds seeking autonomy inside Turkey.
At a briefing in Washington on Thursday, State Department spokesman John Kirby expressed condolences for the loss of life in Turkey, and praised the country for its contribution to the fight against Islamic State in Syria. But he rejected the increasingly vocal calls from Turkish leaders for the U.S. to choose between its ally in the North Atlantic Treaty Organization and the Syrian Kurds.
NATO Ally
"It's not about choosing sides," Kirby said. "There's no doubt about Turkey's membership in the coalition; obviously, there is no doubt about our commitment to a fellow NATO ally. And there is also no doubt that some of the strongest fighters against Daesh inside Syria have been Kurdish fighters."
The U.S.-led coalition has carried out airstrikes in the past to support Kurds in Syria as they fought Islamic State.
"That kind of coalition support will continue," Kirby said. The U.S. understands Turkey's concerns, and has called on the Syrian Kurdish fighters not to seize more territory near the frontier, while also urging Turkey to halt cross-border shelling, he said. But he said that responsibility for the Ankara bombing, which Turkish authorities rapidly pinned on the Syrian Kurdish group, known as the YPG, is "still an open question."
Turkish Anger
The comments are likely to have angered Turkish leaders who have repeatedly slammed U.S. support for the YPG .
President Recep Tayyip Erdogan said in a televised speech that he'd be calling his U.S. counterpart later on Friday, and that he wants the Kurdish Syrians designated terrorists. He brushed aside earlier comments by an aide that suggested Turkey was prepared to deny the U.S. access to the airbase from which it's launching Syria strikes.
In the hours after the Ankara bombing, Prime Minister Ahmet Davutoglu said Turkey "can't excuse any NATO ally, including the U.S, of having links with a terrorist organization that strikes us in the heart of Turkey."
Turkish soldiers have fought alongside Americans in the Korean War, guarded U.S. missiles during the Cold War and led coalition forces in Afghanistan after 9/11.
Earlier in the Syrian war, the NATO allies were in closer agreement on strategy to force Assad to step down. The Russian intervention that started in September has turned the tide in favor of the Syrian leader. As Turkey and Saudi Arabia fretted over battlefield reversals for their rebel allies, the U.S. has favored the diplomatic search for a cease-fire over military moves to shore up the opposition, which now carry the risk of a head-on confrontation with Moscow.
"We are not looking at an explicit breakdown of ties, but the U.S. will not be sensitive to any of Turkey's priorities in Syria," Naz Masraff, director for Europe at political risk consultants Eurasia Group, said in e-mailed comments.
Russian Spat


Turkey's once-friendly relationship with Russia has deteriorated even faster than its U.S. ties. That limits Erdogan's room to defy American wishes, according to Atilla Yesilada, an economist for GlobalSource Partners.
Turkey shot down a Russian fighter jet in November, saying its airspace had been violated, and tensions have deepened with the breakdown of business ties since then. Meanwhile the Russians have promised to protect Kurdish fighters in Syria if they're attacked, according to the head of the Syrian Kurds' new representative office in Moscow.
"If Turkey seriously believes that Obama is going to change course in Syria, they're delusional," Yesilada said. "Either they need to operate alone in Syria with whatever objective they want to achieve, or they need to change course."