Petrobras Debt-to-Equity Swap Talk Puts Shareholders on Notice
Stock already near worthless at 0.21 times its book value

Positive news on output growth gets buried under debt burden
At its peak in 2008, Petrobras was the world's fifth-largest company worth $310 billion. Since then it has lost more than 90 percent of its value, and recent speculation about a debt-to-equity swap raises the spectre of more woes ahead for shareholders.
The market cap of Brazil's oil giant stands at just $19 billion with its shares trading near $1 -- and some analysts say the actual equity value is zero. With no easy solution to the highest debt load in the oil industry, speculation is mounting that the government will take steps to ensure debt payments at the expense of shareholders. It's shares trade at just 0.21 times the company's book value, the least among its oil industry peers, according to Bloomberg data.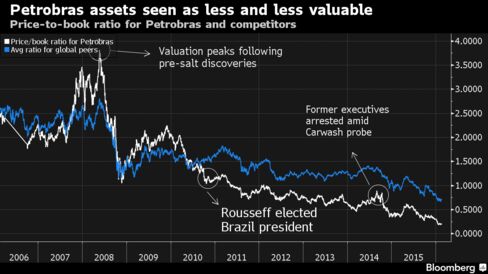 There's a "genuine possibility" that state-controlled banks will convert an estimated 87 billion reais ($22 billion) of debt into equity in a move that would ease payments, analysts at Banco BTG Pactual SA said in a note dated Feb. 15. The next day Reuters, citing people it didn't identify, said the government is considering such a move. In January, President Dilma Rousseff said that her administration would be willing to evaluate government assistance to support the state-controlled producer.
Petrobras declined to comment. In January, the company's Chief Financial Officer Ivan Monteiro told reporters that the company wasn't weighing a share sale or considering asking for any kind of government rescue. Banco do Brasil SA's press office said the bank hadn't discussed a Petrobras debt-to-equity conversion. Caixa Economica Federal didn't reply to an e-mail requesting comment, while development bank BNDES declined to comment.
"Recapitalizing Petrobras shows to investors that Brazil is willing to resolve its issues and not on the back of bondholders," said Patrik Kauffmann, who helps manage $11 billion of assets at Solitaire Aquila Ltd., including Petrobras bonds, in Zurich. "As a shareholder you will get diluted, depending on how it is structured."
There is no shortage of issues that have caused Petrobras to tank more than any other major oil producer. Years of missed production targets, profit-killing fuel subsidies during the commodities boom, billions sunk in unprofitable refining ventures, and then the biggest corruption scandal in Brazil's history -- which caused the oil producer to block suppliers and replace its top management. On top of that, the tumble in oil prices to historical lows is making it more difficult for the company to sell its assets to raise cash, and spending cuts are curbing the pace of production growth.
The issues led Standard & Poor's to cut Petrobras' rating by two steps to B+ on Wednesday, four levels below investment grade, with a negative outlook.
Only two of the 14 analysts who cover the company say buy, with JPMorgan Chase & Co. and Goldman Sachs Group Inc. recommending investors sell the shares. Haitong Research, which initiated coverage this week with a sell, has a fair value of 1.80 reais ($0.45) for the preferred shares -- 62 percent below current levels. If oil prices fail to recover to more than $55 a barrel by 2019, more pain is in store for shareholders, said Sergio Tamashiro, Haitong's analyst who covers the stock.
"The risk is toward equity holders; this equity at some time could be worth zero," Tamashiro said in a phone interview. While he doesn't believe a debt-to-equity swap would happen soon, he says "the federal government could support Petrobras" which would be "more favorable to bondholders" and dilute shareholders.
Even recent success by the world's biggest deep water producer to install major production vessels ahead of schedule has done nothing to ease shareholder concerns, Tamashiro said.
According to Mark Mobius, chairman of the emerging markets group at Franklin Templeton, even bondholders are at risk.
"There will have to be discounts to the debt, the government will have to come in and help out, and a lot depends on oil prices," Mobius told reporters in Sao Paulo Feb. 5. "The trouble with these oil companies is that as soon as oil prices come down, their assets decline. And then the banks say 'your assets are less, I'm not gonna lend you any more money, or will lend you less than I originally expected.'"
Before it's here, it's on the Bloomberg Terminal.
LEARN MORE