Dalio Says Governments Must Encourage Spending to Boost Growth
Quantitative easing will have a beneficial yet limited effect

Bridgewater founder warns that investment returns will be low
Ray Dalio, the head of the world's largest hedge fund, said central banks have lost much of their power to revive slowing economies, and governments will eventually have to resort to policies that encourage spending.
Central banks may initially use quantitative easing and negative interest rates to halt the current slide in financial markets, but those policies won't suffice to stimulate spending, Dalio wrote in a research report published Thursday. Rather than trying to influence the behavior of investors and savers, the next step in policy will probably target spending directly, he wrote.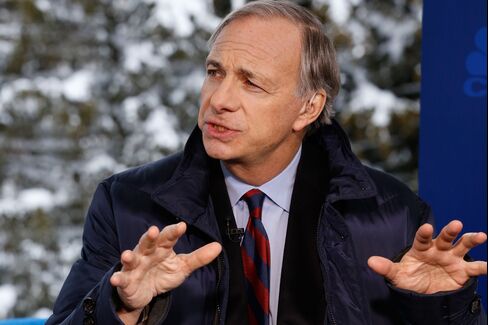 "How exactly that will work has to be determined," the founder of the $154 billion Bridgewater Associates wrote. "However, we can say that the range will extend from classic fiscal/monetary policy coordination (in which debt to finance government spending will be monetized) to sending people cash directly (i.e., helicopter money), and will likely fall somewhere between these two (i.e., sending people money tied to spending incentives)."
Dalio is among a group of well-known investors that have outlined a need for spending programs after economies around the globe relied largely on central banks to revive growth following the 2008 financial crisis. Bill Gross, the famed bond manager, said in 2014 that while central banks around the world have made "a damn fine attempt" at fueling inflation, fiscal measures were needed to revive the real economy.
Global stocks have plummeted this year and investors have fled to perceived havens such as U.S. Treasury bonds and gold. Dalio predicted in September that returns across asset classes over the next decade will only average 3 percent or 4 percent, and that narrower spreads will make it much harder for asset purchases to have a big effect on the market.
Lower Returns
Dalio, whose firm has about half its assets in hedge funds, reiterated in his report that investors "should expect to experience lower than normal returns with greater than normal risk."
Recent market declines have prompted central bankers from Tokyo to Stockholm to embrace the notion of negative interest rates as financial market volatility surges. Federal Reserve Chair Janet Yellen said last week that the Fed is taking another look at negative rates in case the U.S. economy falters.
While bond managers including Janus Capital Group Inc.'s Gross and Scott Mather of Pacific Investment Management Co. have warned that negative rates would have adverse consequences, Dalio said they would be beneficial, just not sufficient.
"To be clear, we are not describing what will happen tomorrow or what we are
recommending, and we aren't sure about what will happen over the near term," Dalio wrote. "We are just describing a) how we believe the economic machine works, b) roughly where we believe that leaves us, and c) what these circumstances will probably drive policy makers to do -- most importantly that central bankers need to put their thinking caps on."
Before it's here, it's on the Bloomberg Terminal.
LEARN MORE