Ukraine President Calls for Premier's Resignation to End Crisis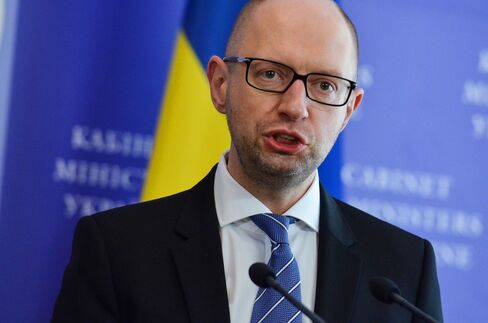 Poroshenko seeks `complete government reboot' to boost reforms

Top prosecutor also agrees to leave to help anti-graft efforts
Ukrainian President Petro Poroshenko called on the prime minister to resign and a government of technocrats to be formed in an effort to end political turmoil that's jeopardizing the nation's economic recovery and billions of dollars of foreign aid.
Poroshenko said he wanted to avoid early elections, urging a "complete government reboot" instead. Parliament registered a confidence motion against Premier Arseniy Yatsenyuk, who reported Tuesday on cabinet performance. While the president told lawmakers to act quickly in deciding Yatsenyuk's fate, it's unclear when the vote will take place.
"In order to renew trust, therapy isn't enough, surgery is needed," Poroshenko's spokesman, Svyatoslav Tsegolko, said on Twitter. "The president has asked the Prosecutor General and the prime minister to quit."
Ukrainians and the nation's foreign backers are losing patience with delays in fighting corruption and modernizing the economy. Two top reformers quit this month, alleging graft within the ruling coalition. The president and his team, swept to power after a popular uprising, arrived with a mission to bring European levels of transparency to the ex-Soviet republic after decades of misrule. They've also had to grapple with a recession and a pro-Russian insurgency that's killed 9,000 people.
Ukrainian government bonds pared losses after Poroshenko's comments on signs new appointments will accelerate the reform agenda. The yield on notes due 2019 climbed 50 basis points to 11.38 percent after earlier jumping as high as 11.63 percent.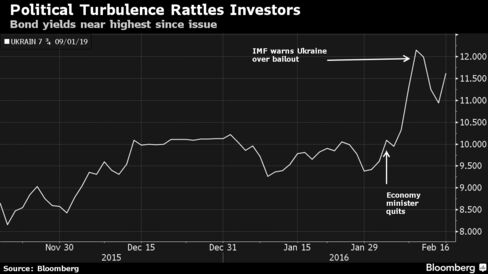 Yields surged last week as International Monetary Fund Managing Director Christine Lagarde warned the nation's bailout may be halted by political infighting. A $1.7 billion disbursement from the Washington-based lender has been delayed since last year, holding up other bilateral aid.
"Investors are in wait-and-see mode," said Dmitri Petrov, a London-based analyst at Nomura International Plc. "There could be a temporary pressure release if the new cabinet proves able to pass legislation. Otherwise an early election could follow and that would spook the market."
The escalating political crisis adds to headwinds for Ukraine. Almost two years after pro-Russian separatists seized swathes of the nation's easternmost regions, a peace accord to resolve the conflict has yet to be implemented. Three Ukrainian soldiers were killed in the past 24 hours, the worst casualties in three months.
The economy also remains fragile as it recovers from an 18-month recession, with the hryvnia losing 10 percent this year. Trade with Russia has been ravaged since the street protests toppled Ukraine's pro-Kremlin leader in 2014. Russia is also threatening legal action over a $3 billion bond that Ukraine defaulted on after restructuring attempts failed.
Poroshenko and Yatsenyuk had previously sought to convey unity after Economy Minister Aivaras Abromavicius and Deputy Prosecutor General Vitaliy Kasko quit amid accusations ruling-party officials were blocking reforms. JPMorgan Chase & Co. and Bank of America raised their recommendations on Ukrainian debt to overweight late last week, saying the market was overplaying the risk of early elections. Franklin Templeton, Ukraine's biggest bondholder, was said to be holding onto its investment.
A snap ballot remains a possibility. A no-confidence motion would need 226 votes in the 450-seat parliament to pass. While a motion is possible on Tuesday, coalition party Samopomich said it's more likely in March. If lawmakers dismiss the government, parliament would have 60 days to form a new one before early elections are triggered.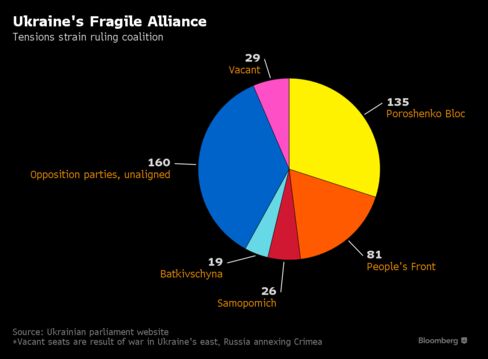 Within the four-party coalition, Samopomich and ex-Premier Yulia Tymoshenko's Batkivschyna are also seeking Yatsenyuk's exit. Backing for his People's Front party, parliament's second-biggest after Poroshenko's, has plunged to less than 1 percent.
Maksym Burbak, who heads the People's Front in parliament, warned Tuesday of the dangers of pushing Ukraine into early elections, saying such a move would play in to Russia's hands by destabilizing the country.
"This scenario will have catastrophic consequences for the state," he told lawmakers.
Before it's here, it's on the Bloomberg Terminal.
LEARN MORE