Secret Petro-Diplomacy Starts to Pay Off in Echo of 1999 Shock
Qatar leads back-channel talks with Saudi Arabia and Russia

In 1998-99, oil countries negotiated in secret to curb output
For more than a year, oil diplomats have been busy behind the scenes trying to forge a deal between OPEC and nations outside the cartel to revive prices by curbing output.
The maneuvering, led first by Algeria and now Qatar, started to bear fruit Tuesday when Russia and Saudi Arabia, at odds over the war in Syria, agreed to freeze production at January levels. The first public one-on-one meeting between the oil chiefs of the two largest producers in eight months essentially suspended a battle for market share and capped months of secret talks, people familiar with the matter said.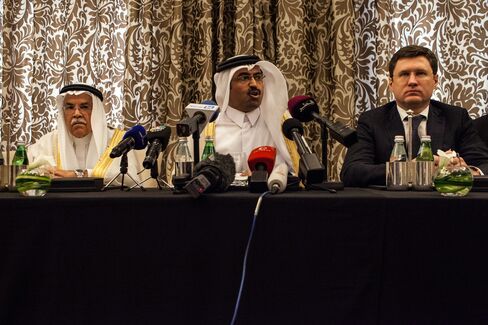 Now the focus shifts to Iran, which has just been unshackled from sanctions over its nuclear program, and whether it will follow suit. Officials will meet with Iraqi counterparts in Tehran on Wednesday for talks along with Venezuela, a broker of Tuesday's accord. The Islamic Republic plans to regain market share it has lost regardless of prices, a person familiar with the country's strategy said.
Saudi oil chief Ali al-Naimi said the freeze marks "the beginning of a process" that may include other steps in the coming months. The goal, he told reporters in Doha after meeting his Russian counterpart Alexander Novak, is "to stabilize and improve the market."
History Lesson
The shuttle diplomacy shows how oil's collapse is bringing countries that disagree on other issues closer together. The revenue squeeze being felt from Moscow to Riyadh and Caracas to Oslo increases the likelihood of a "grand bargain" that may go beyond oil and include political issues such as the proxy wars in Syria and Yemen, several analysts said.
OPEC has pulled it off before, forging a common front against a slumping market in 1998 and 1999 that helped trigger a decade-long bull market, lifting crude from $10 a barrel to more than $140. Back then, ministers spent months meeting privately in hotel suites and embassies from Miami to The Hague before surprising the market with a round of cuts that included not only OPEC but also leading exporters Mexico and Norway. Russia's contribution was limited to cheering.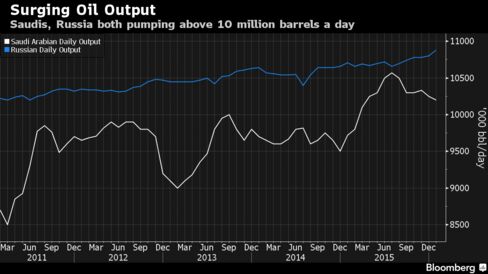 If the cartel is successful again, the world may not know about it until the last minute, according to Jason Bordoff, director of the Center on Global Energy Policy at Columbia University and a former White House official.
'Serious Talks'
"If Venezuela, Saudi Arabia, Iran, Russia and other top exporters were engaged in serious talks to cut output, history suggests these would be occurring in secret," Bordoff said.
The 1990s accord started with a confidential memo that Adrian Lajuous, then the head of Mexico's national oil champion, sent to his country's president titled simply "Oil Diplomacy." The final pact surprised almost everyone and rattled the market, creating a cautionary tale traders haven't forgotten.
Ian Taylor, chief executive officer of Vitol Group BV, the world's largest oil trader, said before the Russian and Saudi freeze was announced Tuesday that a new deal between OPEC and non-OPEC producers is "a real possibility."
Brent fell 3.6 percent to $32.18 a barrel in London time on Tuesday, erasing an earlier gain of 6.5 percent. Prices were holding losses at 2:25 p.m. in Singapore on Wednesday.
'Early Days'
This time, it's Qatar taking the lead after Algeria's oil minister, Youcef Yousfi, stepped down late last year. Yousfi, who played a key role in the 1999 pact, pushed hard to kick-start back-channel negotiations, including with the Saudis in Germany.
"These are still very early days and nothing concrete has been agreed, but there is a growing sense that countries could be more flexible, although Riyadh would insist that everyone else contribute to the cut," said Amrita Sen, chief oil analyst from consultant Energy Aspects Ltd.
The hurdles to reaching a more comprehensive agreement are significant. "The Doha deal is a very poor cousin to the start of the 1998-99 petro-diplomacy," said Bob McNally, president of consultant Rapidan Group in Washington and a former senior oil official at the White House.
First, the main reason for the glut -- the surge in U.S. shale production -- is outside the control of any government, unlike last time. And the biggest players, led by Saudi Arabia and Russia, have been locked in an aggressive battle for market share amid fears that slower growth in China will dampen demand.
War, Religion
Second, diplomatic relations are far more strained than two decades ago. Back then, Iran and Saudi Arabia were enjoying a rare thaw in ties after Mohammad Khatami came to power in Tehran. Today, the two religious rivals are fighting each other via proxies from Syria to Yemen.
Russia and Saudi Arabia are backing opposite sides of the war in Syria, where President Vladimir Putin has been conducting almost daily bombing raids in support of his ally Bashar al-Assad, whom Saudi Arabia is seeking to overthrow. Putin will make the final call on any agreement with OPEC as a whole and so far he hasn't decided, one official in Moscow said.
A third factor weighing against a deal is Saudi Arabia's stockpile of cash -- enough for the kingdom to survive a price war of attrition. Two decades ago, it held less than $25 billion and debt almost equal to gross domestic output. Today, it has more than $600 billion and its debt is less than 10 percent of GDP.
Still, OPEC Secretary-General Abdalla El-Badri has called on all countries, both inside and outside the group, to join efforts to revive prices.
"It should be viewed as something OPEC and non-OPEC tackle together," El-Badri said in London in late January. "It is crucial that all major producers sit down to come up with a solution to this."
Before it's here, it's on the Bloomberg Terminal.
LEARN MORE