Corporate Bond Sales Surge Above $23 Billion as Apple Sells Debt
Blue-chip companies led by Apple Inc., International Business Machines Corp. and Toyota Motor Corp. raised more than $23 billion in bonds in the U.S. on Tuesday following a week where debt issuance was frozen amid concerns about the health of the global economy.
In what was the second biggest day for debt sales this year, Apple issued $12 billion of bonds in nine parts to return capital to shareholders, according to Bloomberg data. IBM sold $5 billion of notes that will be used for general corporate purposes. Toyota Motor Credit Corp., the financing arm of Asia's biggest automaker, issued $1.75 billion of debt in two parts.
"This is a test. The market will let the high quality guys go first and see what happens from there," said Thomas W. Murphy, a money manager at Columbia Threadneedle Investments. "The market isn't open for everyone yet."
Corporate debt sales are off to the worst start to a year since 2010 as a global rout has ensnared credit markets and pushed bond spreads to the highest level in four year years on Feb. 11. The pickup in debt offerings on Tuesday comes as U.S. stocks climbed for a second day following the biggest rally in Chinese equities in three months, and after Honeywell International Inc. on Monday sold 4 billion euros ($4.5 billion) of bonds in the year's biggest corporate sale in the currency.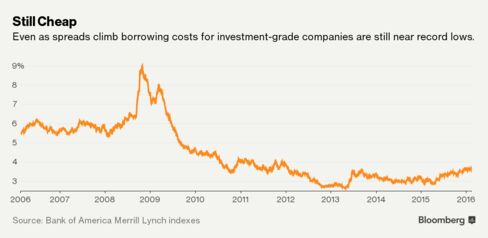 Tuesday's tally lags only behind the $48.9 billion sold on Jan 13, when Anheuser-Busch InBev NV raised $46 billion of bonds.
'Why wouldn't you?'
"If you can come to market, why wouldn't you?" said Joe Mayo, the head of credit research at Conning, a global insurance investment manager with about $92 billion under management. "Treasuries have rallied so much since the start of the year that even with wider spreads they are borrowing at some pretty attractive yields that make it worth it."
Borrowing costs for investment-grade rated issuers are still only about one percentage point higher than the record lows reached in 2013, even as the extra yield investors demand to hold the bonds of blue-chip U.S. companies over Treasuries rises to the highest levels since 2012, according to Bank of America Merrill Lynch Indexes.
"There is certainly demand for the bonds, and a need to issue from a lot of companies," said Columbia's Murphy. "When the market is open as many people who can will squeeze through the window. And when it's closed you just have to bide your time."
Despite Tuesday's robust issuance future sales may prove to be irregular as the credit market is not out of the woods. And deals may prove to be tougher for lower quality companies as the difference in borrowing costs between the best and worse rungs of investment-grade corporate debt is at the widest levels since 2012.
"Expect more volatility, expect more defaults, expect more downgrades," said George Bory, head of credit strategy at Wells Fargo Securities LLC, on a conference call. "But valuations do look attractive."
Before it's here, it's on the Bloomberg Terminal.
LEARN MORE