China's New Credit Surges to Record on Seasonal Lending Binge
Property recovery fuels demand for loans at new year

Companies increase bond issuance with yields at decade low
China's broadest measure of new credit surged to a record as a seasonal lending binge coincided with a recovery in property prices.
Aggregate financing rose to 3.42 trillion yuan ($525 billion) in January, according to a report from the People's Bank of China on Tuesday, compared with the median forecast of 2.2 trillion yuan in a Bloomberg survey. New yuan loans jumped to 2.51 trillion yuan, also a record and beating the median estimate of 1.9 trillion yuan.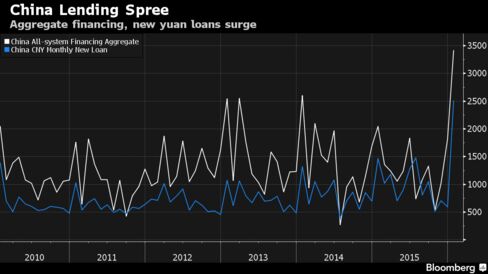 The strong figures were helped by banks front loading their 2016 lending targets, strong corporate bond issuance, and companies switching foreign currency loans into yuan ones. To be decided is whether the acceleration in lending will translate into a sustained pick up in economic growth.
"Chinese banks expanded their balance sheet aggressively in the first month of this year, which implies an implicit support from the government to counter the economic slowdown," said Zhou Hao, senior economist at Commerzbank AG in Singapore. "In addition, Chinese corporates should have turned to onshore for funding, while offloading some external borrowing."
Corporations issued 454.7 billion yuan of notes in January, 2.5 times the amount sold a year earlier, as the yield on top-rated 10-year corporate notes dropped to a decade low in January. M2 money supply growth was 14 percent from a year earlier, compared to the median estimate for 13.5 percent.
"The stronger-than-expected credit growth reduces the probability of monetary easing in February," said Nomura Holdings Inc. chief China economist Zhao Yang in Hong Kong.
The Shanghai Composite Index rose 3.3 percent, paring its decline this year to 20 percent.
Front Loading
While the jump in new loans is mostly attributable to banks front loading their full-year lending targets and the central bank's efforts to keep liquidity ample ahead of the week-long Lunar New Year holiday, it also shows increasing financial support to the real economy, according to Chen Ji, a Bank of Communications Co. analyst in Shanghai.
"We can't call it a recovery yet," he said, adding that he won't raise his forecast of new loans for this year because of last month's data. "We can only say we're seeing some hope. We're still in the early stages of deleveraging, cutting overcapacity and structural readjustments. The pressure going forward remains fairly large."
The central bank has turned to cash injections this year instead of cutting benchmark interest rates, as additional reductions could further exacerbate capital outflows. Net injections since mid-January have been the equivalent to about the same as a 1 percentage point cut to banks' required reserve ratios -- the traditional way to boost liquidity. The difference is that injections are temporary and can be scaled back if policy makers don't roll over lending facilities, whereas a RRR cut is more permanent.
The PBOC also stepped up support for the property market this month, saying Feb. 2 it would allow banks to cut the minimum required mortgage down payment to 20 percent for first-home purchases, the lowest level ever, from 25 percent. Reviving investment in real estate is crucial for the government, which has pursued monetary easing with six interest-rate cuts since late 2014.
"This acceleration in credit growth over the past year or so does add to long term risks," said Julian Evans-Pritchard, a China economist at Capital Economics Ltd. "In the short run, it's a positive for the economy over the next 12 months or so."
— With assistance by Xiaoqing Pi, Enda Curran, and Dingmin Zhang
Before it's here, it's on the Bloomberg Terminal.
LEARN MORE