Even Most Bearish Calls on European Stocks Are Still Bullish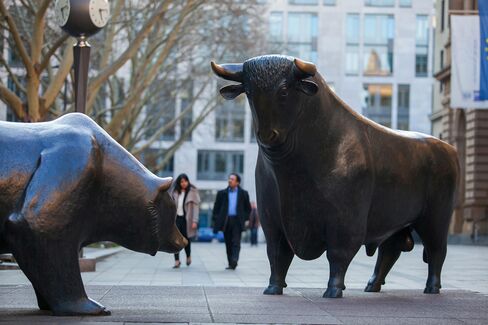 Strategists predict 23 percent rebound for Stoxx 600 this year

Earnings, central banks, oil recovery seen boosting sentiment
Investors may be yanking out money from European stocks at the fastest pace in months, but strategists are standing by their optimistic calls.
After a rout spanning all assets that last week dragged global equities into a bear market, the average forecast now sees the European benchmark closing the year with a 23 percent rally from Friday's close. Take one of the biggest bulls on the region, UBS Group AG -- which even after cutting its year-end target projects a 28 percent rally.
"Our target was starting to be a bit nuts," said Karen Olney, UBS's head of thematic equity strategy, who was behind the bank's decision to cut its estimate to 400 this month from 435. "You're now in a position where the downside is much less worrying than the risk of upside. Investors may be feeling physically ill about the markets, but that never goes on forever."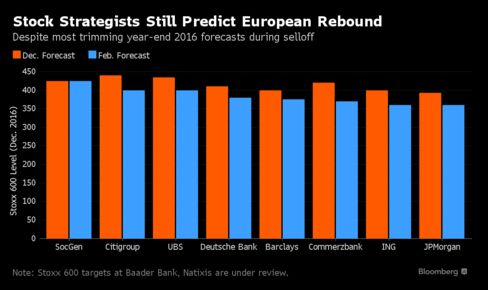 This year's selloff surprised even the most bearish of strategists, prompting all but one bank to lower its 2016 target for the Stoxx Europe 600 Index. That makes the average estimate for a year-end close of 384 an annual 5 percent increase. By comparison, the average forecast for the Standard & Poor's 500 Index calls for a 6.1 percent gain.
The Stoxx 600 climbed 3 percent today.
The European Central Bank will shore up confidence in the banking sector, oil will recover and profits will jump 8 percent this year, London-based Olney said. Her earnings call is more than double the average projection for Stoxx 600 earnings compiled by Bloomberg, and that's after having been slashed by half since November. The Stoxx 600 trades near its cheapest levels since 2013, based on projected earnings.
With a selloff that erased 326 billion euros ($366 billion) in value from Stoxx 600 banks, the industry has lost its rank as the most influential on the index for the first time since 2012. It accounts for about 12 percent of the gauge, less than health-care companies and compared with about 15 percent in October 2014. That would be good news for overall profit growth -- health care will probably see earnings gain 10 percent this year, or about double the pace of banks.
Jasper Lawler at CMC Markets Plc is among those wary of calling for such a strong rebound. While ECB stimulus helped the Stoxx 600 rally as much 21 percent last year, he questions the effectiveness of such measures going forward.
"That's delusion, it's out of date to call for a rise in the market at this point," said Lawler, an analyst at CMC Markets in London. "The main reason European markets did well was the central-bank policy and that has already fizzled out. It just doesn't have the intended effect anymore."
Societe Generale SA didn't lower its Stoxx 600 target at all this year, making the bank the biggest bull with a projection for a 36 percent surge from the last close. Its forecast would take the European benchmark comfortably above an all-time high reached in April.
"There is, in my view, a massive misperception on the economic recoveryin Europe," said Charles de Boissezon, co-head of European equity strategy at the Paris bank. "Central-bank actions so far have all been followed by market recoveries. There is a real risk in being short of that action."
Before it's here, it's on the Bloomberg Terminal.
LEARN MORE