Nation's steel, fuel exports drop in January from December

Export flood has exacerbated global glut, dragged down prices
Steel bosses in the U.S. to oil refinery officials in Asia facing increased competition from Chinese commodity exports may be seeing a glimmer of relief.
China's overseas shipments of steel, aluminum and fuels all dropped in January from a month earlier, data from the nation's customs administration showed on Monday. That represents an easing in the deluge of manufactured products from the country, where slowing domestic demand amid economic malaise has sent record volumes abroad and compounded a worldwide surplus of commodities.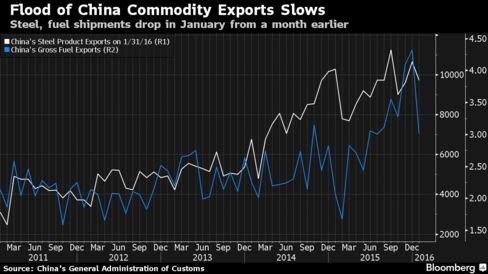 As the glut keeps returns from raw materials near the lowest level since at least 1991, global producers of everything from steel to diesel are probably counting on exports from China easing further to prompt a recovery in prices. The flood has spawned trade tensions, prompting U.S. politicians to criticize steel shipments from the Asian nation and India's JSW Steel Ltd. decry the cheap shipments as unfair. Refiners from South Korea to India say Chinese fuel cargoes are eroding their profit margins.
"As global prices of commodities have generally hit the bottom, China is focusing on stockpiling and reducing its own production, rather than shipping them abroad," Will Yun, a Seoul-based commodities analyst at Hyundai Futures Inc., said by phone. "China's efforts to restructure its steel and aluminum sectors seem to be making some progress."
Steel product exports by China were at 9.74 million metric tons in January, compared with 10.65 million a month earlier, according to Monday's data. Shipments from the nation rose by a fifth in 2015 to an amount big enough to feed demand in Germany and Japan for a year and leave almost 9 million tons to spare.
Holiday Slowdown
The relief may be short-lived as the drop in shipments may have been the result of slowing production before the Lunar New Year holidays, when manufacturing activity typically eases, according to Shenhua Futures Co.
"Global trade tensions have continued to rise as other countries push back against Chinese exports," Wu Zhili, an analyst at Shenhua Futures in Shenzhen, said by phone. "The period before the Lunar New Year is a weak period for steel production, so the drop in exports before the break is quite seasonal in nature."
Net fuel exports -- a measure that strips out imports -- fell 76 percent in January from the previous month to 350,000 metric tons, the lowest since June, according to calculations based on General Administration of Customs data. Gross fuel exports dropped 30 percent compared with December.
Refiners including India's Hindustan Petroleum Corp., South Korea's SK Innovation Co. and Formosa Petrochemical Corp. in Taiwan have said rising fuels exports from China will lead to a drop in international prices and weaken processing margins.
The Bloomberg Commodity Index, a measure of returns from 22 raw materials, ended up 2 percent on Friday, paring its losses for this year to 4 percent.
Before it's here, it's on the Bloomberg Terminal.
LEARN MORE