Kerry Urges EU to Hold Together as Refugee Crisis Spurs Discord
U.S. secretary of state sees `near-existential' threat

U.K. should stay in EU, Kerry tells Munich conference
The European Union needs to stick together and cope with the "near-existential" threat spurred by the refugee crisis that threatens the cohesion of the 28-nation bloc, U.S. Secretary of State John Kerry said.
"We are facing the gravest humanitarian crisis in Europe since World War II," Kerry said at the Munich Security Conference on Saturday. "The U.S. understands the near-existential nature of this threat to politics and life in Europe."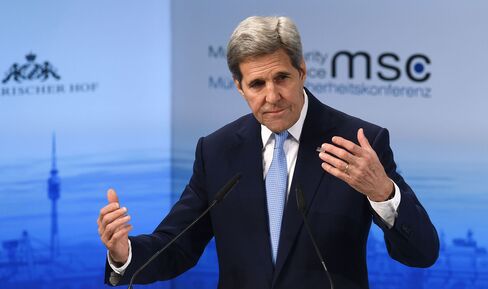 With millions of Middle Eastern and African refugees testing Europe's ability to manage its borders, countries have turned to bickering over how to deal with crises on its borders. European governments have squabbled, blamed each other, put up fences and suspended passport-free travel as they've struggled to cope with the surge in migrants driven by civil war in Syria.
Remaining united also means that the U.K. must remain in the EU, Kerry said, days before the bloc's leaders try to thrash out a change to Britain's terms of membership aimed at persuading British people to vote against leaving at a referendum. The U.S. wants a "strong United Kingdom, staying in a strong EU," Kerry said.
Before it's here, it's on the Bloomberg Terminal.
LEARN MORE