Syrian Opposition Says Russia Can't Be Trusted to Respect Truce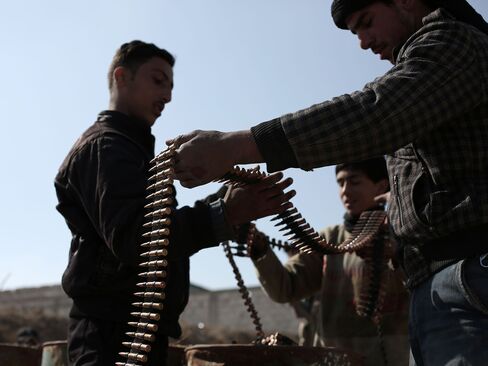 Opposition group calls for UN peacekeepers to be sent to Syria

HNC to attend Geneva talks if international peace bid works
Syria's main opposition group expressed doubt about Russia's intention to comply with a partial cease-fire in the country's civil war, calling on the U.S. and its allies to make sure that President Vladimir Putin sticks to the agreement.
Rebel groups fighting Syrian President Bashar al-Assad will only halt hostilities if his forces and their Russian and Iranian allies stop targeting them by Feb. 18 in line with the accord negotiated by major powers in Munich on Thursday, said Salem al-Muslet, chief spokesman for the High Negotiations Committee. The group is ready to attend the next round of United Nations-sponsored peace talks scheduled for Feb. 25 if the commitments are implemented, he said.
"I hope that the U.S. will do the job right because you cannot really trust Putin on this issue," al-Muslet said in an interview in Munich on Friday. "If it is left up to the Russians, they will target everything. They don't distinguish between terrorists and moderate fighters. The U.S. and the international community must take responsibility and guarantee that this will never happen."
The U.S., Russia and other powers, including all the main backers of opposing sides of the conflict, agreed on a truce that won't cover jihadist groups such as Islamic State militants, while airdrops of humanitarian aid will begin immediately. The deal comes as Russia's five-month-old bombing campaign backing Assad delivers its biggest results yet, with government forces threatening to drive rebels out of Aleppo, their stronghold.
"There are many positive points in this agreement and if they stick to it, we can do something good for the Syrians," al-Muslet said. "We support the implementation of this agreement to test the goodwill of the other party."
Battlefield Details
The opposition will urge the U.S. and its allies to support the dispatch of UN peacekeepers to Syria to ensure Russia doesn't commit "any crimes against civilians" in areas where neither Islamic State nor the al-Qaeda-linked Nusra Front have a presence, he said.
The U.S. and Russia plan to negotiate over the week ahead on details of the halt to fighting at a military level. Russian Foreign Minister Sergei Lavrov said on Friday his country intends to pursue its anti-terrorist fight in Syria.
Two Islamist groups that Russia considers terrorists, Army of Islam and Ahrar as-Sham, may have had links to Nusra in the past but are now committed to the peace process, said al-Muslet. A senior figure in the Army of Islam, Mohammed Alloush, is the opposition group's chief negotiator in Geneva.
Before it's here, it's on the Bloomberg Terminal.
LEARN MORE