Apple Said to Be Producing TV Series With Rapper Dr. Dre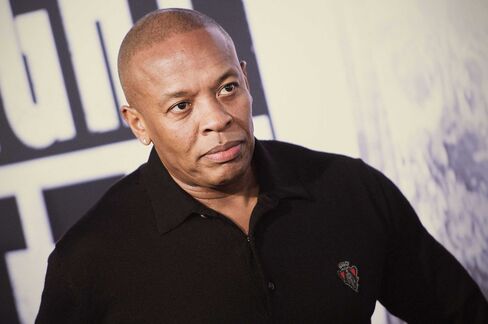 Beats co-founder stars in semi-autobiographical `Vital Signs'

Company has held talks about making more original shows
Apple Inc. is producing an original TV series with rapper and producer Dr. Dre, according to a person with knowledge of the matter, as the maker of iPhones and iPads experiments with creating entertainment to sell more of its devices.
Dre, co-founder of Apple's Beats Electronics, will star in and produce the series, called "Vital Signs," said the person, who asked not to be identified because the project is confidential. It isn't clear how Apple will distribute the show, the person said. Options include the Apple Music streaming service, iTunes and the Apple TV set-top box.
Apple has stepped up its investment in entertainment, bankrolling radio programs for Apple Music, a tour documentary starring pop star Taylor Swift last year and exploring the creation of a live TV service. The company also held talks with entertainment executives about obtaining exclusive shows for Apple TV, people with knowledge of the matter said last year. "Vital Signs" is an experimental one-off and not part of those efforts, the individual said.
Christine Monaghan, a spokeswoman for Apple, declined to comment. Dre's publicist didn't respond to requests for comment.
The series will span six episodes and be semi-autobiographical, according to the Hollywood Reporter, which reported on Apple's plans earlier Friday. Dre, 50, who's real name is Andre Young, sold Beats to Apple for $3 billion in 2014 with partner Jimmy Iovine. He was an executive producer of "Straight Outta Compton," a biopic about the rap group N.W.A.