Yellen Suggests Fed May Delay Rate Rises, Not Abandon Them
Market turmoil "significantly" tightened financial conditions

Fed chair non-committal on possible use of negative rates
Federal Reserve Chair Janet Yellen suggested that the central bank might delay, but not abandon, planned interest-rate increases in response to recent turmoil in financial markets.
In presenting the Fed's semi-annual economic report to Congress, Yellen said the turbulence had "significantly" tightened financial conditions by pushing down stock prices, pushing up the dollar and raising some borrowing costs.
"These developments, if they prove persistent, could weigh on the outlook for economic activity and the labor market," she told the House Financial Services Committee on Wednesday.
QuickTake Fed Liftoff: Ending a Zero-Rate Era, Carefully
Policy makers provisionally penciled in four quarter percentage point rate increases for 2016 when they hiked borrowing costs in December for the first time since 2006. The financial markets since then have been rocked by a series of shocks, from a depreciation of China's currency to a steep fall in oil prices, that raised concerns among investors about the outlook for the world economy.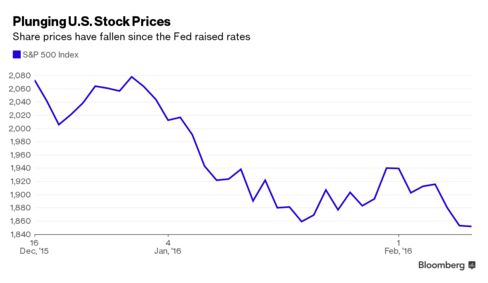 In spite of the big moves in the markets, Yellen said she hasn't seen a steep drop-off in economic growth, either in the U.S. or globally. "Recent economic indicators do not suggest a sharp slowdown" in China, she added.
She forecast that the American economy would bounce back this quarter after slowing in the final three months of 2015 and said she expects wage gains to accelerate now that unemployment has fallen to an eight-year low.
"Yellen maintained a cautiously optimistic outlook, while acknowledging increasing downside risks," Kathy Bostjancic, an economist at Oxford Economics USA in New York, said in a research note.
The Fed chair said the policy-making Federal Open Market Committee continues to see the next move in interest rates as up, rather than down. "I do not expect the FOMC is going to be soon in a situation where it's necessary to cut rates," she said.
She reiterated the Fed's intention to raise rates gradually, allowing the economy to continue to expand at a moderate pace and the labor market to improve further.
Tightening Delayed
"The message that I think she is trying to send for policy is that tightening will be delayed, but that the longer-run outlook is not changed much," said Jonathan Wright, a professor at Johns Hopkins University in Baltimore and a former Fed economist.
Yellen was non-committal on whether the Fed would follow the lead of some other central banks and push rates below zero if the economy deteriorated significantly.
"We will look at it and should look at it" as part of prudent planning, she said. Yellen also said the central bank had not yet determined whether it would be able to legally implement negative interest rates.
Yellen spent much of her three-hour-plus testimony fending off attacks on the central bank. In a rare display of unity, lawmakers from both the Republican and Democratic parties criticized the Fed for providing subsidies to the banks by paying them higher-than-market interest rates for their reserves.
The Fed chief defended the practice, arguing that it allowed the central bank to maintain a big balance sheet and thus provide support to the economy.
Yellen's appearance before Congress "conveyed a message of calm from the Federal Reserve," Bloomberg Intelligence economists Carl Riccadonna and Rich Yamarone said in a note summing up her testimony.
"She acknowledged potential points of concern, including the deterioration in financial conditions, diminished international growth prospects and fallout from low commodity prices, but she also re-emphasized the bright spots in the economy."
Before it's here, it's on the Bloomberg Terminal.
LEARN MORE